Most of us learned when we were kids how important trees are for our world. We were brought up believing that most of the oxygen that we breathe comes from trees, which is one reason the rainforests need to be preserved. Well, this is only partly true. According to National Geographic, only about 28% of oxygen on Earth comes from rainforests. Even if this number is lower than expected, we should still preserve the rainforests. The majority of oxygen that we breathe, somewhere between 50% and 85%, comes from marine plants, like kelp and phytoplankton in the ocean. So, when it comes to sustainability, we should be focusing on reducing emissions in the ocean that can kill off plant life. One type of phytoplankton, Prochlorococcus, releases countless tons of oxygen into the atmosphere. It is so small that millions can fit in a drop of water. Prochlorococcus has achieved fame as perhaps the most abundant photosynthetic organism on the planet. Dr. Sylvia A. Earle, a National Geographic Explorer, has estimated that Prochlorococcus provides the oxygen for one in every five breaths we take. And now on to this week's logistics news.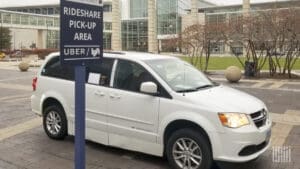 Uber Connect, the local package delivery business of Uber Technologies, Inc. said Wednesday it has begun offering a service to handle returns. Under the service, called Return a Package, an Uber driver will pick up sealed and prepaid packages at a customer location and drop them off at a local post office or FedEx Corp. or UPS Inc. location. Uber charges a $5 flat fee for up to five packages tendered at a time or a $3 fee for Uber One members. The service is available in the nearly 5,000 cities where Uber has a presence, the company said. Real-time tracking is available in the Uber app, the company said.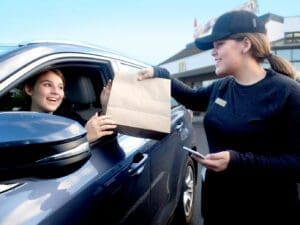 Retailers are adding new incentives to boost their overall curbside shopper experience for customers. Last month, Target said it will rollout its drive-up with Starbucks program across the country and offer customers freshly made Starbucks coffee and food items among other things. Target first piloted this service with Starbucks last year at select stores. This summer, Kroger started giving out free sample boxes, which include products from brands like Oreo, Snack Factory and Ghirardelli, along with its online delivery and curbside pickup orders. And Walmart is now offering late night online pickup and delivery as it builds out its suite of pickup and delivery options that prioritize convenience, speed and putting the customer first.
The Biden administration took aim Tuesday at the fentanyl trafficking threat, announcing a series of indictments and sanctions against Chinese companies and executives blamed for importing the chemicals used to make the deadly drug. Officials described the actions, which include charges against eight Chinese companies accused of advertising, manufacturing and distributing precursor chemicals for synthetic opioids like fentanyl, as the latest effort in their fight against the deadliest overdose crisis in U.S. history. The moves come one day before senior administration officials are set to visit Mexico, whose cartels are part of the global trafficking network, for meetings expected to involve discussion of the drug threat.
U.S. retailers and other delivery customers for the first time in more than four years are easily winning discounts from United Parcel Service and FedEx, according to industry data and interviews with seven professionals who advise shippers in price negotiations. That's a sharp reversal from 2021 and the first half of 2022, when UPS and FedEx  – awash with volume from the early pandemic's online shopping surge – rebuffed discount requests and cherry-picked the most profitable customers. Now, those same companies are fighting to fill trucks as demand shrinks. Excluding the U.S. Postal Service and Amazon, UPS and FedEx dominate the U.S. doorstep delivery sector with a share of almost 50% and combined annual revenue of $191 billion. They have pushed through annual general rate increases of more than 30% from 2019 to 2024, and are often nearly lock step on pricing.
During and after the pandemic, more businesses than ever moved most or all of their sales online or closed altogether, leaving behind a large number of empty retail spaces in shopping malls and elsewhere. For example, in June 2021, Washington Prime Group, a shopping mall real estate company that owns 102 locations around the US filed for Chapter 11 bankruptcy protection, leaving space for e-commerce firms to potentially move their inventory and fulfillment operations in. While the use of mall space for traditional storefront sales may have declined since the pandemic, the demand for e-commerce is still on the rise. By 2023, the retail e-commerce market is expected to reach $6.3 trillion. To fill the rising gaps in shopping malls, many mall owners are converting the empty spaces into fulfillment centers for shipping out orders. Shopping malls are typically located in populated areas with spacious parking, and many are often equipped with loading dock spaces. Restructuring these spaces into fulfillment centers requires minimal spending. Projects are already underway to convert an approximate 14 million sq ft retail space into 15.2 million sq ft of industrial space. According to CBRE, 59 such projects have already been completed, proposed or are underway since 2017.
Domestic flight activity for express air parcel companies, led by FedEx, inched up in August, with the group performing better than normal for the time of year, according to research by transport analysts at Morgan Stanley. But the express carriers are still flying less than they were a year ago because of weak shipping demand. Market reporting agency WorldACD said on Saturday that express shipments were down 17% from January to August versus the same period in 2022. The reports underscore how private air fleets of express delivery companies are coping with a yearlong downturn in parcel volumes amid a broader freight recession that is also hurting airlines that carry general cargo. The decline in flights appears to be near the bottom of the cycle after dropping 30% at FedEx and 20% at UPS at the start of the year. FedEx flight utilization, on a sequential basis, jumped 17% in August following a 9% drop the prior month, while the year-over-year comparison improved to minus 7% versus down 14% in July, according to Morgan Stanley's Parcel Tracker report. FedEx reported that a decline in domestic parcel volumes flattened out in the first quarter of the 2024 fiscal year ended August 31, suggesting a potentially greater need for flights than in recent months. The carrier also appears to have benefited from UPS freight diverted by shippers that feared a potential strike by drivers and warehouse workers leading up to an agreement on a new labor contract.

The air logistics arm of Amazon is closing its regional air hub at Leipzig/Halle International Airport in Germany in response to a downturn in e-commerce sales and parcel volumes that has also forced rival express carriers to downsize their air networks to match lower volumes. The hub was handling several flights per week operated by contractor ASL Airlines Ireland using Boeing 737-800 converted freighters, according to Amazon officials and aviation databases. ASL Airlines Ireland operates nine 737-800s in Europe under the Amazon livery. Amazon will continue to use Leipzig/Halle as a delivery station for customers in the Saxony region, but the airport won't be used as a collection point for connecting other cities in Europe, the company said. Amazon began operating to Leipzig/Halle airport, where it leased a 20,000-square-foot facility, in November 2020 with two freighters to speed package delivery for Prime members around the continent. The company said service will not be impacted by the hub's closure.
That's all for this week. Enjoy the weekend and the song of the week, The Ocean by Led Zeppelin.