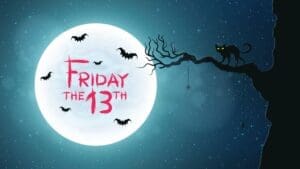 Have you ever heard of paraskevidekatriaphobia? It's likely that only the ultra-superstitious have herd of the term, which is a fear of Friday the 13th. Like many superstitions that have evolved over time and across cultures, it is difficult to pinpoint the precise origins of Friday the 13th. But one source mentioned the unlucky nature of the number "13" is a Norse myth about 12 gods having a dinner party in Valhalla. The trickster god Loki, who was not invited, arrived as the 13th guest, and arranged for Höðr to shoot Balder with a mistletoe-tipped arrow. Balder died, and the whole Earth got dark. While there is evidence of both Friday and the number 13 being considered unlucky, there is no record of the two items being referred to as especially unlucky in conjunction before the 19th century. In France, Friday 13th might have been associated with misfortune as early as the first half of the 19th century. A character in the 1834 play Les Finesses des Gribouilles states, "I was born on a Friday, December 13th, 1813 from which come all of my misfortunes". Although there is always at least one Friday the 13th per calendar year, it can be as long as 14 months between two Friday the 13ths. There can also be no more than three Friday the 13ths in a single calendar year; either in February, March, and November in a common year starting on Thursday, or January, April, and July in a leap year starting on Sunday. And now on to this week's logistics news.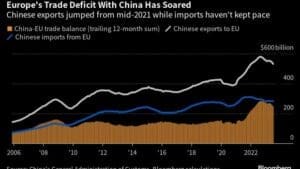 The European Union is working on an interim deal with the US that would introduce new tariffs aimed at excess steel production from China and other countries in order to end a Trump-era trade conflict. The levies would primarily be focused on imports from China that benefit from non-market practices. The provisional political agreement on the so-called Global Steel and Aluminum Arrangement is expected to be announced at an October 20 summit in Washington, according to people familiar with the plans. The scope of the measures, including other countries that could be targeted and the level of the tariffs, are still being discussed. They are also expected to provide a framework for other nations to join in the future. The two main planks of the GSA would seek to tackle non-market excess capacity and carbon emissions. The deal — which would fall short of a legally binding agreement — seeks to settle a dispute that started when President Donald Trump slapped tariffs on metals imports from Europe, citing risks to national security. Failure to reach an accord by October 31 would mean that levies on $10 billion of exports between the EU and US would automatically come back into force at the start of 2024.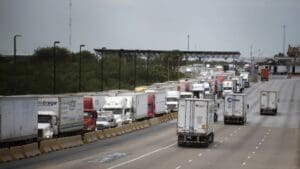 Texas Governor Greg Abbott's border-security crackdown is clogging up commercial crossings, leaving at least 19,000 trucks loaded with $1.9 billion of goods stuck waiting in Mexico. "Absurd" safety inspections are causing wait times as long as 24 hours in lines that stretch for 14 miles, Mexico's biggest trucking group said in a statement October 8. The holdup makes it exceedingly difficult for businesses to manage supply chains, it said. Texas announced a renewed push for cargo-truck inspections last month as part of Abbott's "Operation Lone Star" plan to deter illegal border crossings and drug smuggling amid what he says is a lack of enforcement by the federal government. His administration did the same in April 2022, prompting protests from business interests on both sides of the border. The inspections were halted a week later after Texas officials said they'd reached security agreements with their Mexican state counterparts across the border.
Blue Yonder, a leading supply chain solutions provider, announced the signing of an agreement to acquire Doddle, a first and last mile technology business. Once completed, the deal will allow Blue Yonder's suite of supply chain management and commerce offerings to expand with final mile, returns management, and reverse logistics solutions. Doddle's self-service return kiosks and pick-up, drop-off (PUDO) networks offer retail and logistics businesses a solution to today's returns management challenges. The acquisition agreement was signed by Blue Yonder and Doddle on October 11 and the transaction is expected to close in Q4 2023. The intent to acquire Doddle was announced jointly by Duncan Angove, CEO, Blue Yonder, and Tim Robinson, co-founder at Doddle at ICON London, Blue Yonder's supply chain conference.
A.P. Moller-Maersk A/S, the maritime shipping giant that has been diversifying into land transportation, is betting that driverless trucks will help make deliveries more reliable. Maersk is experimenting with driverless trucks at its shipping yard in Carson, California, and has partnered with Kodiak Robotics Inc. to test autonomous truck runs from Houston to Oklahoma City with a safety driver aboard. Driverless trucks will help Maersk improve on-time performance, said Erez Agmoni, Maersk's global head of innovation for logistics & services. Maersk joins FedEx Corp., Uber Freight and others that are testing autonomous big rigs in Texas and surrounding states. Kodiak, Aurora Innovation Inc. and other companies are using sensors and on-board computers to drive trucks with the promise of reducing accidents, cutting fuel consumption, and operating expensive trucks around the clock instead of about 11 hours a day, which is the limit on driver service hours. Maersk and Kodiak are running trucks 24 hours a day for four days a week between Houston and Oklahoma City with a stopover in Dallas to swap out safety drivers, who must comply with the limit on driver hours. The round trip is being made four times a week.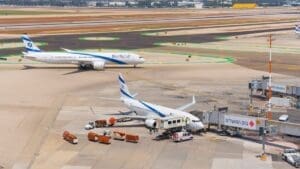 FedEx Express joined a long list of airlines that have sharply reduced international flights into Israel after a large attack by Hamas insurgents from Gaza over the weekend, but other cargo operators are trying to keep air cargo traffic flowing during the war despite the risk in the air and at Tel Aviv airport. UPS late Monday also said it had stopped flying to Israel. Civil aviation authorities in the U.S., European Union and Israel all urged airlines to use caution in the region's airspace but have not restricted flights. Israel's aviation regulator advised carriers to review security and threat information and to carry more fuel, and they changed some flight paths to the capital. Aircraft tracking site Flightradar24 shows an average delay of 42 to 60 minutes for flights at Tel Aviv airport.
It has been an anemic peak season for ocean freight haulers as container shipping rates have plunged from pandemic highs and Americans and Europeans continue to pull back on purchases of consumer goods. Daily market prices to move cargo from Asia to the U.S. and Europe in September were down as much as 90 percent from early 2022, a bad sign for ship operators since voyages are often unprofitable at current rates. The largest container carriers have responded by canceling sailings en masse this year, mainly on the route from ports in China to the U.S. West Coast, according to data from shipping platform Xeneta. More cancellations are planned this month following the Golden Week holiday in China where manufacturing sites are idled, according to boxship executives and brokers.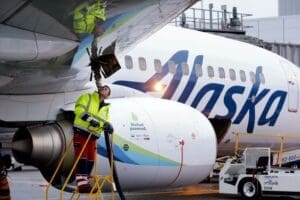 Alaska Airlines said it is joining forces with a venture-capital outfit to create startups from scratch that will develop technology the airline believes can give it a leg up on emerging aviation tech. Seattle-based Alaska Airlines said it would work with Santa Monica, Calif.-based UP.Labs to develop six startups over three years that focus on the future of transportation. UP.Labs is a division of multi-strategy investment firm UP.Partners. Alaska Airlines corporate development director Pasha Saleh said it would use the partnership to focus on decarbonization technology to help it meet company targets to cut emissions. The airline is interested in sustainable fuels, alternative propulsion options, such as electric motors, and artificial-intelligence-powered flight routing technology that can boost efficiency. Alaska, for its part, has set a goal of net-zero carbon emissions by 2040. The company said developing new technology is key in accomplishing that goal.
On the picket lines at a Ford factory west of Detroit, many striking workers don't think the electric vehicle revolution is coming for their jobs — at least not in the near future. But just in case, they're backing United Auto Workers President Shawn Fain's quest to unionize EV battery factories at Ford and Jeep maker Stellantis, matching a breakthrough concession made by General Motors last week. So far, neither Ford nor Stellantis has agreed to the change, which would pull employees at all 10 U.S. battery factories proposed by Detroit automakers into national contracts with the UAW, all but assuring they'll be unionized. In short, if electric vehicles replace gas-powered ones, most UAW workers at engine and transmission plants will lose their jobs. And if lower-paying battery plants aren't union, workers won't have anywhere to get the same wages and benefits.
That's all for this week. Enjoy the weekend and the song of the week, Superstition by Stevie Wonder.