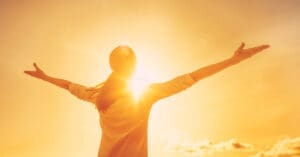 As the saying goes, an apple a day keeps the doctor away. Or is it an Apple Watch keeps the doctor away? While the smartwatch has been able to track your steps and activities over the years, Apple's Time in Daylight feature uses the watch's ambient light sensor, as well as its GPS and motion sensors, to detect whether a person is outside. While this may seem like a completely useless function of the Apple Watch, daylight exposure has been shown to boost alertness, mood, and the body's production of vitamin D, mitigate eye strain, and regulate a person's circadian rhythm. But wouldn't most of us know that we are outside? Well, according to Richard Weller, a professor of dermatology at the University of Edinburgh, the typical person is outside for far fewer hours in the day than was the case generations ago. Weller says that "until the Industrial Revolution, 150 years ago, we have lived our entire evolutionary history outdoors all day, every day. What is abnormal is that we now spend our lives inside and briefly pop outside." So maybe this functionality will help to get people outside more. And now on to this week's logistics news.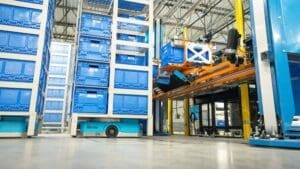 Amazon is introducing an array of new artificial intelligence and robotics capabilities into its warehouse operations that will reduce delivery times and help identify inventory more quickly. The revamp will change the way Amazon moves products through its fulfillment centers with new AI-equipped sortation machines and robotic arms. It is also set to alter how many of the company's vast army of workers do their jobs. Amazon says its new robotics system, named Sequoia after the giant trees native to California's Sierra Nevada region, is designed for both speed and safety. Humans are meant to work alongside new machines in a way that should reduce injuries, the company says. Sequoia enables the company to put up items for sale on its website faster and be able to more easily predict delivery estimates, said David Guerin, the company's director of robotic storage technology. The new program reduces the time it takes to fulfill an order by up to 25%, the company said, and it can identify and store inventory up to 75% faster. Amazon launched the system this week at one of its warehouses in Houston.
Starting in 2024, Amazon will require suppliers to share their emissions data, set emissions goals, and report on their progress, the e-commerce giant said in its recently released sustainability report. With that move, it joins Microsoft, Walmart, Apple, and others in saying that suppliers must step up decarbonization efforts. The mandates come as big businesses face more demand than ever to adopt eco-friendly practices. Consumers, investors, regulators, and governments are pushing firms for more progress and transparency. Third-party sellers and suppliers — especially smaller ones — face a paradox as the climate mandates arise and become increasingly tougher. Even if they're eco-conscious, many say they don't have the resources to meet the tracking and reporting demands.
The Biden administration is refining rules aimed at keeping advanced chips and manufacturing gear out of China, seeking to close loopholes that might help its geopolitical rival gain cutting-edge technologies. The latest regulations are an attempt to streamline export curbs announced last October, according to people familiar with the matter. The new rules will strengthen controls on selling graphics chips for artificial intelligence applications and advanced chipmaking equipment to Chinese firms. The move will set new guidelines for companies like Nvidia Corp., which has been selling a weakened version of its flagship processor to Chinese companies to abide by the current rules. The tighter standards may make those kinds of workarounds more difficult for American exporters
About 10,000 ships pass through the Soo Locks each year to bring iron ore, grain, limestone and other staples across the Great Lakes and Canada into the Midwest and beyond. The navigational system, which allows large ships to bypass rapids below Lake Superior, was originally opened in the 1850s to handle a boom in copper mining. Every few decades, the locks were upgraded—until recently. The largest lock, built in the 1960s and called the Poe Lock, is a vital link in the U.S. industrial supply chain but has been shut down for repairs 20 times in the last 10 years. Nine of the outages occurred in the last four years. Now, construction crews are working to complete a modernization of the locks, a task given greater urgency by revelations about the economic impact of disrupted supply chains during the Covid-19 pandemic. The question is whether the upgrades can get the funds they need in time despite a huge influx of cash from Washington.
With a modest annual increase, United States-bound containerized freight imports snapped a 13-month stretch of annual declines in September, going back to July 2022, according to data recently issued by S&P Global Market Intelligence. September imports, at 2.54 million TEU (Twenty-Foot Equivalent Units), increased 1% annually as Peak Season begins in earnest, while trailing August's 2.88 million TEU tally. On a year-to-date basis through September, imports are down 13% annually, at 21.38 million TEU. S&P Global Market Intelligence noted that shipments of consumer discretionary goods were flat in September, following a 17% August gain. And it added that consumer electronics shipments headed up 3%, as home appliances shipments rose 26%. Furniture and apparel imports each declined 7%, with leisure goods, including seasonal toys, were off 2%.
DHL Express Teamsters rallied today near the global shipping company's massive operations at the Cincinnati/Northern Kentucky Airport (CVG) to demand safer working conditions. CVG workers united in solidarity and shared their experiences with the press. In 2022, there were at least 22 workplace injuries at DHL's CVG operations that required transport to a hospital or emergency room. DHL Express Teamsters work outdoors, loading and unloading approximately 360,000 pounds of cargo per day. They are essential workers responsible for the movement of domestic and international goods. Brandi Dale, a Teamsters ramp agent at CVG, said:
"With a huge operation like DHL-CVG — where things can get chaotic in an instant —people can and do get hurt without smooth communication, proper equipment, and adequate staffing. It's not a safe workplace. Our families deserve to know we'll come back home the same way as we went in. As it stands now, we can't promise that."
Mississippi River water levels are plummeting to an all-time low this week at Memphis in the wake of a sweltering summer and ongoing drought – setting a record for the second consecutive year, new data shows. The low levels have disrupted barge traffic and have allowed saltwater to move up the Mississippi River in Louisiana, threatening the drinking water for thousands of people. The water level at Memphis fell to a record-low elevation of minus 11.5 feet on Wednesday afternoon, according to data from the National Weather Service. The preliminary record must be verified by the US Army Corp of Engineers, NWS Memphis noted on social media, and water levels could continue to drop in the coming days.
That's all for this week. Enjoy the weekend and the song of the week, Waiting for the Sun by the Doors.