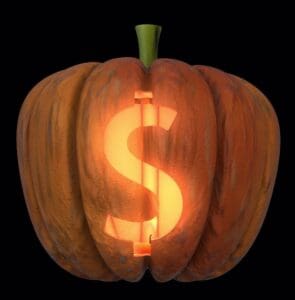 Next Tuesday is Halloween, a night when kids don costumes and go trick or treating, and parents open their wallets for all sorts of Halloween fun. Total Halloween spending is expected to reach a record $12.2 billion, exceeding last year's record of $10.6 billion, according to the National Retail Federation's annual survey conducted by Prosper Insights & Analytics. A record number of people (73%) will participate in Halloween-related activities this year, up from 69% in 2022. Like previous years, the top ways consumers are planning to celebrate are handing out candy (68%), decorating their home or yard (53%) or dressing in costume (50%). However, in a return to pre-pandemic norms, more consumers also plan to throw or attend a party (32%) or take their children trick-or-treating (28%). And now on to this week's logistics news.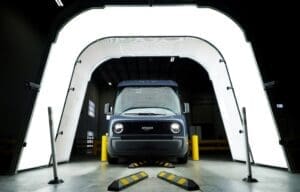 Amazon is rolling out automated vehicle inspectors to watch for damage or wear to its vast fleet of delivery vans. The company is installing camera-studded inspection stations equipped with artificial intelligence-powered technology called AVI, or automated vehicle inspection, at hundreds of its distribution centers worldwide. When a driver working out of any of the 20 delivery centers currently equipped with the tech returns their vehicle at the end of a shift, they slowly drive it through a sensor-laden archway made by startup UVeye, which has headquarters in the US and Israel. The technology is made up of three separate high-res camera systems: One scans a vehicle's undercarriage, another checks tire quality, and another focuses on the vehicle exterior. The data they gather is compiled into a 3D image of the vehicle and used by machine-learning software to identify whether the vehicle is damaged or needs maintenance. The algorithms should pick up every nail in a tire, fluid leak, dent on a fender, or crack in the windshield.
Amazon added a badge next to products made by small-business brands and artisans in 2022, and this week it announced a new search filter to let shoppers more easily find such items. Amazon informed sellers of the new feature in a post on Monday, explaining that when a customer's search results include eligible products from small-business brands, the new filter will appear under Business type in the search filter options. Amazon sellers can see the public-facing page that describes the Small Business badge to customers on this page of the Amazon.com website.
To improve their margins, retailers are putting pressure on suppliers to pare back costs. Over the past two years, product suppliers have been jacking up prices to deal with inflation — essentially passing the cost to consumers. While this has helped some suppliers pump up their revenue, retailers took a hit from people buying fewer products and cheaper products. Some shoppers have opted to shop at discount stores and dollar stores for essential items. While inflation is still persisting, the cost of commodities has significantly improved. The World Bank's report released in April indicates that overall commodity prices are projected to drop by 21 percent in 2023 relative to the previous year — the sharpest decline since the pandemic. As a result, retailers now have more bargaining power over suppliers.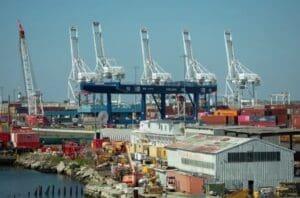 The Port Authority of New York and New Jersey has embarked on an ambitious Net Zero Roadmap, outlining a comprehensive strategy to slash greenhouse gas emissions at the New York/New Jersey seaport. This commitment goes beyond the authority's direct emissions and extends to emissions produced by its operating partners, including marine terminal operators, oceangoing vessel operators, railroads, and trucking companies. A notable achievement at the port is the electrification of 89 out of 91 ship-to-shore and rail-mounted gantry cranes. There's a mandate in place for full electrification by 2026. Additionally, the agency has implemented an ambitious marine terminal tariff, gradually phasing out outdated equipment and mandating terminal operators to adopt zero-emission material handling equipment as newer models become available.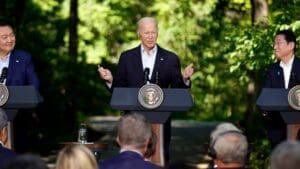 In August, President Biden hosted the leaders of Japan and South Korea at Camp David, bringing the three countries together in a bid to further encourage collaboration and innovation. When it came to supply chains and manufacturing, Biden, South Korea President Yoon Suk Yeol and Japanese Prime Minister Fumio Kishida honed in on critical minerals and each country's need for the materials to support their electric vehicle and battery ambitions. The leaders agreed to launch a pilot program for a supply chain early warning system to exchange information about possible disruptions to key production and logistics networks. While the White House has been scant on details of what the program will look like, it likely will focus on data and information sharing and ways to pool resources among the three countries. The administration has yet to announce a program launch date.
West coast container imports rose in September as California ports continue to win back business lost when nervous importers rerouted freight flows to Gulf and East coast ports during a series of worker strikes in June. The warming trend was also fanned by the calendar, as retailers are bulking up their inventory storage levels ahead of the annual winter holiday peak shopping season, according to the National Retail Federation (NRF). The shifting numbers could be seen at the Port of Los Angeles, where cargo volume increased for the second consecutive month compared to 2022. The port handled 748,440 twenty-foot equivalent units (TEUs) in September, a 5.4 percent improvement compared to the same period last year. In Los Angeles, September 2023 loaded imports landed at 392,608 TEUs, an increase of 14 percent compared to the previous year. Loaded exports came in at 120,635 TEUs, an increase of 55 percent compared to 2022. It was the fourth consecutive month of year-over-year monthly export gains.
United Parcel Service (UPS) has agreed to acquire Happy Returns, a software and reverse logistics company that handles returns for retailers, from PayPal. The Atlanta-based company said the acquisition is expected to close in the fourth quarter. UPS Chief Executive Carol Tomé said that by combining Happy Returns' digital experience with the package-delivery company's small package network and brick-and-mortar locations, label-free returns will soon be available at thousands of locations in the U.S. Terms of the deal weren't disclosed.
That's all for this week. Enjoy the weekend and the song of the week, This Is Halloween from Tim Burton's The Nightmare Before Christmas.