Welcome to Jupiter! NASA has received a signal from its Juno Spacecraft that it has entered Jupiter's orbit. That signal came from 540 million miles away. Juno was launched five years ago to study Jupiter's composition and evolution. It is also the first spacecraft to orbit Jupiter since Galileo, which was purposefully crashed in 2003. The goal is to get a better understanding of Jupiter, as it is the largest planet in the solar system. Scientists think it was the first planet to form, and could hold clues as to how the solar system formed. The spacecraft will orbit Jupiter for the next 20 months and hopefully give us some answers about the gas giant as well as our solar system.
And now, on to the news.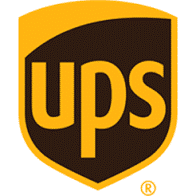 UPS is rolling out 300 new locker pick-up locations across the US after a successful test of nine locations in Chicago. The lockers allow customers to direct the packages to a location conveniently located near them, and pick up the package at a convenient time. This is all part of UPS' strategy to reduce the overall cost to deliver packages. The locker build out is considered to be a supplement to the company's Access Point program. In this program, UPS pays local merchants a small fee to act as a package pickup location. Customers who use UPS's My Choice app can direct their packages to the lockers, which will be placed outside 7-Eleven Inc. stores as well as independently owned and operated retail locations. Lockers will initially be available in Illinois, New York, Pennsylvania, Virginia, and Washington, with the possibility for expansion depending on the program's success.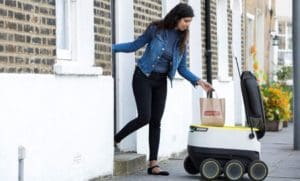 Robots are coming to Europe. A fleet of self-driving robots are set to roll out across European sidewalks this month as part of a large-scale testing program by major retailers and delivery companies. It follows a series of partnerships between delivery robot startup Starship Technologies and food delivery services Just Eat and Pronto in the U.K., as well as parcel delivery company Hermes and leading German retailer Metro Group. The six-wheeled robots travel at slow speeds along sidewalks to deliver parcels and groceries to customers, and are monitored by humans in a control center. Initially, the programs will run in Bern, London, Dusseldorf, and another as-yet unnamed German city, before spreading to other European and US cities.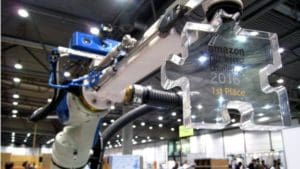 Speaking of robots, Amazon held its annual Picking Challenge, where teams build robots to pick items in a warehouse setting. This year's challenge had two parts – picking and stowing items. Team Delft's robot won both events and took home the trophy as the winner of the Picking Challenge. The winning machine has a robotic arm that combines a suction cup, a "two-fingered" gripper, and a 3D depth-sensing camera. The pick challenge contained 40 common Amazon items, while the stow challenge contained 12. The winning team took home $50,000.
Intelligrated, a North American based automated material handling solutions provider, announces that it has entered an agreement to be acquired by Honeywell in a transaction valued at $1.5 billion. The company brings a portfolio of warehouse automation, order fulfillment, and software solutions with an extensive presence in North American e-commerce, retail, and food and beverage markets, which will complement Honeywell's workflow performance solutions.
Publix Super Markets is jumping back into e-commerce. The company is testing a pilot program for delivery service in parts of Miami with a partnership with Instacart. The service area includes 37 ZIP codes in the Miami area, from Hallandale Beach to South Miami. Publix shoppers can place online orders via a dedicated Publix page on Instacart's site, which is offering free delivery on the first order over $10 and delivery within an hour. This is just the latest example of grocery delivery operating in a big market; Instacart already operates in 25 metropolitan areas in the US and works with more than 100 retailers.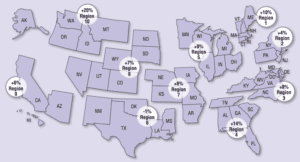 Preliminary data from the National Highway Traffic Safety Administration (NHTSA) show a 4% increase in truck-involved crashes with fatalities in 2015 over 2014. Overall, NHTSA found a 7.7% increase in traffic deaths during 2015. An estimated 35,200 people died on US roadways in 2015, up from the 32,675 reported fatalities in 2014, according to NHTSA. If the agency's predictions hold to be true, 2015 will be the deadliest year on U.S. highways since 37,423 people were killed in 2008. One factor tied to the increase in all highway fatalities is a 3.5% increase in vehicle miles traveled in 2015 over 2014.
And finally, global air freight volumes were flat, year on year, in May, with a 4% decline in US air exports compensated for by a 4% increase in tonnages from the Middle East South Asia (MESA) region, according to a report from WorldACD. The report indicates that year-over-year (YoY) volume growth was limited to 0.5%, while average yields in US dollars dropped by 1.9% compared to April. WorldACD also published analysis of the world's Top-100 air cargo forwarders, measured by chargeable weight produced in 2015 grouped by their origins, together covering 58% of the worldwide air cargo market. The Top-10 show a joint market share of 35%, and are as follows (in descending order): DHL, K&N, Schenker, Expeditors, Panalpina, UPS, Nippon Express, DSV/UTi, Kintetsu and CEVA.
That's all for this week. Enjoy the weekend, and the song of the week, Space Oddity by David Bowie.