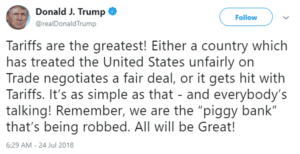 President Trump has been quite vocal when discussing US trade deals, often lamenting how the US has been getting the short end of the stick on almost every trade deal. One of his first moves as President was to pull the US from the Trans-Pacific Partnership (TPP) citing it as a bad deal. Since then, the President has been renegotiating NAFTA (another "bad deal" for the US), and imposing tariffs on goods imported worldwide. The result is an escalating trade war with China, uncertainty around the future of NAFTA, and a lot of confusion around the US' role in the global economy, especially with the EU.
In recent months, the Trump administration has levied tariffs on $34 billion worth of Chinese imports and has targeted $16 billion more in the near future. This comes on top of another $200 billion in targeted duties on a number of Chinese goods which Trump has threatened if China retaliated, which they did to the tune of tariffs on US goods worth $34 billion. By looking at one of the President's latest tweets, he is all in on a trade war. As he wrote:
"Tariffs are the greatest! Either a country which has treated the United States unfairly on Trade negotiates a fair deal, or it gets hit with Tariffs. It's as simple as that – and everybody's talking! Remember, we are the "piggy bank" that's being robbed. All will be Great!"
In all, President Trump has said he is ready to impose tariffs on all $500 billion worth of goods imported from China. But, with pushing more tariffs, especially with some country's closest allies, the resulting trade war could have some pretty serious consequences for US companies and consumers. Ironically, the trade war will impact products made for President Trump's own businesses as well as his families. These items include Trump eyeglasses, Trump golf collectibles, Trump Hotel towels, hats and flags manufactured for his re-election campaign, and Ivanka Trump's shoes.
As I've written about in the news round-up a few weeks ago, Harley-Davidson is one such company that is feeling the effects of the newly imposed tariffs and trade war. The company is set to lose nearly $100 million a year. For motorcycles, the European bloc raised its 6 percent tariff to 31 percent. That will make each bike about $2,200 more expensive to export. Considering that the European market is Harley-Davidson's second largest market, this causes significant problems. As a result, the company is shifting some production of motorcycles for European customers out of the United States to avoid EU retaliatory tariffs. Earlier this week, Harley-Davidson cut its forecast for profit margin this year by nearly 10 percent. Prior to the tariffs, the company had been projecting a margin of as much as 10.5 percent.
The latest NAFTA negotiation talks have not gone anywhere, which has kept retaliatory tariffs in place from Canada and Mexico. Canada has hit back by collecting tariffs on $12.6 billion worth of US goods, including steel, aluminum, beef, and ketchup. Mexico imposed a series of tariffs against US exports to its market valued at $3 billion. The tariffs range between 15 percent and 25 percent, and will raise the prices of US products including pork, apples, potatoes, cheese, and bourbon. The tariffs will impact just over 1 percent of US exports to Mexico, but the message is clearly political. Trump has indicated that he is not happy with the latest NAFTA deal and will not sign anything until after the midterm elections.
Considering the tariffs imposed by Mexico mentioned above, and the retaliatory tariffs levied by the EU, the US Bourbon market is feeling the sting of the trade war. In the last few years, Bourbon sales have been skyrocketing worldwide, and easy trade regulations made exports to Mexico, Canada, and the EU very easy. However, retaliatory tariffs imposed on Kentucky Bourbon – a direct attack on Senate Majority Leader Mitch McConnell – have driven up prices significantly. For high end Bourbons, this is not nearly as troubling, as a price increase of $10 – $15 a bottle will generally not steer consumers away from a top shelf product. However, for those mid-range bottles, that may have been in the $25 to $35 range, a $10 – $15 increase could prove disastrous. Most consumers will simply not pay that much for a mid-level bottle; instead they may look to lower end bottles, or move away from Bourbon to Scotch or Irish Whiskeys.
In the latest round of companies to be hit with tariffs, the US wearables and smart speakers market could see a 10 percent tariff. Recent reports have indicated that Apple Watch, Fitbit devices, and some Sonos speakers fall under a "data transmission machines" subheading and will face price increases because of the tariffs on Chinese goods. Not all of these company's goods will fall under the subheading, as they may have a different classification. Either way, these companies will try to avoid the higher prices in a few ways. The first option is to have the code removed from the list of tariffs. The second option is to apply for an exclusion. The third option is get the devices reclassified. And if all else fails, the cost will simply be passed along to the consumer. This last scenario is probably not what people are hoping for.
The trade war with multiple countries looks to be reaching a point of escalation. President Trump has already indicated that he is fine with levying tariffs on all Chinese imports, which will certainly result in additional retaliatory moves from China. He is also not interested in signing a new NAFTA deal until after the midterm elections, which means there are at least three and half more months for tensions to escalate. The EU is looking at ways to negotiate and compromise, but things may have gone too far to get them back on a friendly path. Given the current state of the global economy and the mounting tensions, this is a situation that could have long lasting economic ramifications, and push allegiances to the brink of destruction.