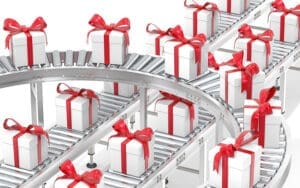 The leaves are changing, the mornings and nights are getting cooler, Halloween is less than a week away, and Amazon, Target, Walmart, and Best Buy have launched holiday kickoff deals. That means that we are getting ready for the annual holiday logistics bonanza. The National Retail Federation (NRF) has issued its annual forecast, anticipating that retail sales will grow between 4 percent and 6 percent in 2023, meaning sales will reach between $5.13 trillion and $5.23 trillion this year. Non-store and online sales, which are included in the total figure, are expected to grow between 10 percent and 12 percent year over year to a range of $1.41 trillion to $1.43 trillion.
The holiday hiring market looks to be a bit cooler this year for retailers, even though consumer spending looks to increase. The career site Indeed said that searches for seasonal jobs were up 19 percent from last year, but that listed positions were down 6 percent. Companies helping businesses find temporary workers note that major retailers have been slower to release hiring plans this year. As we've done in years past, let's check in to see how some of the largest logistics providers and retailers are handling the holiday logistics rush.
Amazon
Amazon has said it is adding 250,000 workers this fall, exceeding the 150,000 employee target set each of the past two years. The roles will primarily be in Amazon's operations network that is responsible for handling products before they are ordered online to final delivery at the customer's location. While the jobs will be available across the US, around 30,000 of the available jobs will be in California, Amazon said. The e-commerce company said it has opened over 50 new fulfillment centers, and other facilities in the U.S. this year.
UPS
UPS will hire more than 100,000 seasonal employees to serve the 2023 holiday rush, including seasonal delivery drivers, commercial driver's license (CDL) drivers, and package handlers, the company said. To attract those workers, Atlanta-based UPS is using a streamlined, digital application process, saying nearly 80% of seasonal positions do not require an interview, and most people can spend less than 20 minutes to go from filling out an online application to receiving a job offer. Of the 100,000 expected hires, 30,000 will be a mix of package car drivers, commercial driver license drivers and seasonal support drivers.
FedEx
FedEx has declined to provide any numbers on its peak season hiring, telling media outlets instead: "We continue to hire for operational positions needed in certain locations and encourage anyone interested in a career at FedEx to visit careers.fedex.com to see the available positions in their market." Two years ago, the company hired 90,000 seasonal workers, and it is assumed it hired roughly that same number last year. For the 2023 holiday season, Chief Customer Officer Brie Carere said: "We feel good about peak. And from a pricing strategy perspective, we're committed to our strategy, which does include peak surcharges."
USPS
The Postal Service put in a number of key investment initiatives leading up to the 2023 holiday season. The agency has announced that it is hiring 10,000 seasonal employees this year. While this may seem low, the Postal Service has focused on its Delivering for America initiative to stabilize its workforce – converting over 150,000 pre-career workers into career positions since October 2020. Due to this success, USPS anticipates the need to hire only an additional 10,000 seasonal employees. Additionally, the USPS will be utilizing 348 new package sorting machines, increasing its daily processing capacity to approximately 70 million packages, and moving 95 percent of volume via more reliable ground transportation: USPS has adapted its transportation and logistics processes to handle the high mail and package volumes expected during the peak holiday season. The Postal Service continues to move mail and package volume from expensive air transportation to its redesigned ground transportation network. Currently, 95 percent of First-Class Mail and more than 95 percent of First-Class packages are moved through the improved, more reliable ground transportation system.
The Postal Service also announced it will not levy any additional surcharges for customers this holiday season, offering increased predictability in pricing for customers. There will be no additional fees for residential area delivery, for Saturday delivery or for minimum volumes.
Walmart
Walmart is "staffed and ready to serve customers this holiday season," according to a LinkedIn post from Maren Dollwet Waggoner, senior vice president of end-to-end operations people at Walmart U.S. The big box retailer has been hiring throughout the year to ensure that it is ready for season. The approach differs from prior years, when Walmart has set seasonal hiring goals. In 2022, the retailer was aiming to hire 40,000 associates, down from 150,000 in 2021.
"More and more, when associates join Walmart and see our culture of growth — they choose to stay, turning a good job into a great career. The result is a better experience for customers year round," Dollwet Waggoner wrote.
Target
Retailer Target announced it plans to add 100,000 seasonal workers this year, in line with last year's hiring. The majority of positions are for in-store workers while other roles are for the company's supply-chain facilities. The company said its seasonal associates would supplement the hiring it had done throughout the year to staff up its stores and supply chain facilities. Seasonal workers will have an opportunity to transition to full-time positions.
Finally, it wouldn't be the holiday season if people didn't stress out about holiday shipping deadlines. Here are the deadlines to keep in mind for your own holiday logistics planning.