At the IE Group's Sales & Operations Planning (S&OP) Innovation Summit last month, several of the speakers, including some representing software vendors, said that people and process were far more important than technology in achieving S&OP excellence. But interestingly, the companies profiled in the case studies as having the most robust and mature S&OP processes all used advanced Supply Chain Planning tools. 
I don't disagree that managing culture change is the biggest challenge associated with S&OP. However, I do not believe a large manufacturer can achieve a robust S&OP process without good technology. Here are my reasons:
S&OP is a highly collaborative process. Throughout the process, information from key customers is required and various action items have to be completed by demand and supply planners, sales, marketing, and other functional groups. As Rich Sherman, Director North America for the Supply Chain Council, says, "Collaboration needs to be push; pull does not work." As an example of push, imagine sending a spreadsheet to the sales force with the demand group's forecast of what a particular salesperson will sell of a particular SKU. If the sales person believes the statistical forecast for them is about right, they will do nothing.  If they believe the forecast is 15 percent too low or too high, they can adjust the forecast and provide a reason for the adjustment. In short, companies need a tool to facilitate collaboration, track it, audit it (i.e., see a history of changes and who made them), and alert on it if certain people are not doing what they need to do in the appropriate timeframe.
The S&OP process is about balancing supply with demand in a way that allows companies to achieve their objectives. What if revenues won't hit the monthly target based on demand and the assumed mix? In this instance, a company might want to explore running a promotion. A demand engine that can calculate the likely sales lift from a promotion becomes an important tool in this instance. Next, the company would want to see if it has the manufacturing, transportation, and warehouse capacity necessary to support a promotion. In these cases, other supply chain tools are needed to run simulations. 
Business Intelligence views are important. A supply chain plan is based on units, not dollars. Executives want to understand what the plan means in terms of revenues and profits. BI also helps executives to see whether they are achieving the company's financial goals in terms of both revenues and costs. 
Here is how I view the main steps and the main complementary tools.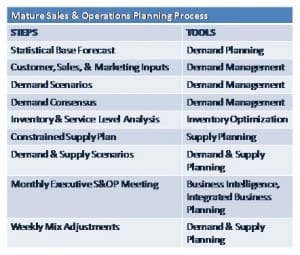 Additionally, an S&OP tool, which is essentially a Business Process Management tool, makes sure all of the tasks at each step are completed on time.
In conclusion, when it comes to S&OP, I must politely disagree – technology does matter!