I want to share with you the clock below –  that signifies an important event to me. Speaking of important events, I will be at MODEX in Atlanta next week. Please let me know (creiser@arcweb.com) if you are attending or have some insight into especially interesting content.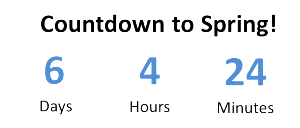 This week in the news:
The DOT Freight Transportation Index fell in January, marking the second consecutive month of decline. This is the first time the index has fallen two consective months since October, 2012. (However, the index levels for both December 2013 and January 2014 were above levels from the previous year.)  All modes declined in January, with trucking experiencing the greatest decline. The DOT noted the severe winter weather as a factor contributing to the poor index reading by its effect on demand and transport of goods.
DAT Solutions, a unit of TransCore, reported gains in February spot market loads and rates.  Spot market loads were up 8.8 percent sequentially,while spot capacity was down 12 percent. The Logistics Management article noted that the increased loads and tight capacity in the spot market are indicative of the poor weather recently experienced across the US, as shippers push more freight into the spot market. The hours of service regulations were mentioned as an exacerbating factor. It was also mentioned that GENCO Transportation Logistics is seeing carriers charging for deadhead miles in this environment. For those interested in the topic of back haul efficiencies, Steve Banker wrote a two part piece in this blog on continuous moves, back haul utilitization, and the potential benefits and difficulties.
Reuters reported that President Obama and European Union leaders will promise to remove all tariffs on bilateral trade between the two economies during a meeting on March 26.  The draft of the joint document, viewed by Reuters, stated, "The EU and the United States are firmly committed to concluding a comprehensive and ambitious Transatlantic Trade and Investment Partnership ….Those goals include eliminating all duties on bilateral goods trade."  The article also calls out the automotive industry as a prime potential beneficiary of the bilateral trade agreement, as the United States has a 2 percent duty on cars imported from the EU, while the  EU charges a 10 percent duty on U.S. cars. ARC's research on the Global Trade Management (GTM) software market shows Automotive as one of the largest end-user industries for this software. For those of you interested in additional background reading on the subject, here is a link to an EU document.
It appears that Amazon is attempting to make Amazon Prime less of financial burden on its operations by increasing the cost of annual membership to $99, up form $79. As previously stated on this blog, it was speculated that the free two day shipping offered through Amazon Prime may have influenced buyer behavior in a way that contributed to this past holiday season's parcel delivery disappointments. Steve Banker also mentioned in his post that Amazon's 10-k notes that for every one dollar in shipping fees Amazon collected, they spent more than two, for a total shipping loss of more than 3.5 billion dollars. Amazon states that its price increase is a result of higher shipping and fuel costs. I can imagine that a number of Amazon's less well-capitalized competitors consider the price increase to be welcome news, as Amazon is able to absorb this market penetration cost longer than many other organizations.
The Wall Street Journal published a nice article on the effect the US shale oil boom is having on rail capacity within the region. Much of the supply chain disruptions are resulting from pileups at BNSF Railway in the northern US, where it is shipping crude oil from North Dakota's  Bakken Shale region. The backup in rail, like other modes, is also partially a result of complications from the harsh winter. As a result, the shipping of grains across the great plains and coal for coal-fired power plants have been substantially delayed. Other commodities impacted include sugar, fertilizer, and potatos. The rail capacity constraints have benefited trucking firms, as rates have increased from rail's overflow.
Finally, neather rain, nor sleet… nor a decade can stop the delivery of your mail. A letter from 2005 was finally received in Columbus, Ohio. The letter appeared frayed, as if it experienced a difficult 8 years in transit. Also, the letter was mailed from roughly 8 miles away. That's works out to a distance of approximately 15 feet per day, as the crow flies.
Have a great weekend!