The ocean shipping industry has traditionally used EDI for shipment tendering, booking and milestone tracking. A new solution has emerged that leverages near real time vessel tracking data to improve shipment planning and tracking.
The Internet of Things (IoT) is nothing new in logistics. In the logistics space, for example, we've been taking RF scans and using that data to improve warehouse processes since at least 1975. Internet protocols make it easier to communicate sensor data to applications, which has led to better and cheaper applications. And, in ocean shipping, IoT data that has long existed. However, it was not being leveraged to improve visibility and carrier scheduling.
In ocean, big carriers have traditionally interacted with shippers and freight forwarders using EDI messages to update interested parties on estimated times of departures, estimated times of arrival, and other pertinent status messages (vessel arrived at port, container gated in, loaded and departed full, etc.) EDI event data is better than having to proactively call carriers or look at carrier portals. But EDI, which depends upon carrier performance, can have problems. It is common for logisticians to refer to ASNs – which stands for Advance Ship Notices – as "Already Shipped Notices." Unfortunately, while that "joke" applies to all transportation modes, it is particularly applicable for ocean.
And yet a rich stream of real time data has long been available to improve ocean visibility. The Automatic Identification System (AIS) is an automatic tracking system used on ships for identifying and locating vessels by electronically exchanging data with other nearby ships, AIS base stations, and GPS satellites. AIS was intended to help ships avoid collisions, as well as assisting port authorities to better control sea traffic, but CargoSmart is doing something new – they are using this near real time data (vessel details are updated every 15 minutes) to improve vessel scheduling and shipment tracking.
CargoSmart Limited, launched in 2000 as a provider of cloud EDI solutions focused on ocean booking and tracking, the company provides software solutions that enable shippers, consignees, 3PLs, freight forwarders, and ocean carriers to improve planning and on-time deliveries.
Simplistically, it would be easy to view EDI as the old way of doing things, and view IoT data as the newer and superior form of data. But they are not quite the same. EDI is a data transmission protocol for shippers' and carriers' shipment updates, while AIS is actual data – and that data must be put in context to become useful. To improve scheduling and shipment tracking, CargoSmart is doing just that – they are leveraging the AIS data, combining that data with EDI status messages and route schedules, and then layering in other data (schedule pattern analysis, port and carrier news alerts, and weather maps). Without EDI shipment milestone data, the AIS data would have much more limited value. CargoSmart is truly a player in the field of shipping digitization and Big Data.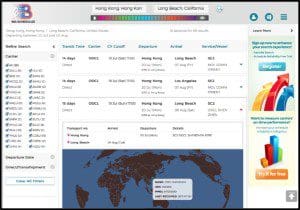 CargoSmart's Big Schedules
While CargoSmart has emerged as an IoT solution provider – and are using AIS and other data sources to track vessel level performance – the company still provides more traditional solutions. Many freight forwarders are using CargoSmart's enterprise solutions to tailor schedules for their customers and provide schedule delay alerts only for the vessels that impact their customers' shipments. These solutions – Private Label Sailing Schedules and Schedule Delay Alert – are currently based on sailing schedule data that the carriers provide. CargoSmart's product development plans are to add the news incidents data to Private Label Sailing Schedules and Schedule Delay Alert products.
Where IoT data exists, like AIS, building a new application that leverages this data seems obvious, particularly in retrospect. But while the idea is obvious, I0T and Big Data are almost synonymous. Gathering, cleansing, normalizing and using predictive analytics to improve schedule decision-making is far from a trivial exercise.