ARC Advisory Group (www.arcweb.com) monitors and analyzes the enterprise software market on a quarterly basis.  We track the revenues of fifteen prominent publicly traded enterprise software companies and translate financial results reported in foreign currencies to US dollars using an average exchange rate for the given reporting period. The suppliers' reporting period for this analysis is the quarter ended March 2016, unless stated otherwise.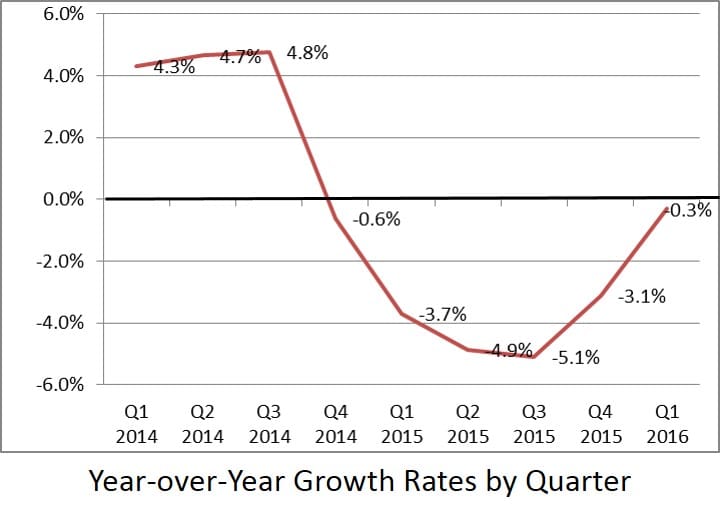 The suppliers included in this report recorded combined quarterly revenue of $21.3 billion, representing a 0.3 percent year-over-year decline from the same period in the prior year. The euro depreciation had only mild impact on growth, as the decline relative to the dollar was just 2.3 percent compared to Q1 2015. The transition from on-premise to SaaS deployments and delayed revenue recognition associated with this new business model are the main reasons for the flat revenue comparisons. However, the overall revenue growth trend over the past 16 quarters shows signs of revival in the enterprise software market.
The year-over-year change in supplier revenues ranged from a reduction of 20.8 percent to growth of 37.1 percent. Six suppliers – Autodesk, EMC, Hexagon, IBM, PTC and QAD reported year-over-year decreases in revenues. Kinaxis, a publicly-traded Canadian supplier of supply chain rapid planning and analysis software, reported the highest growth rate (37.1 percent) of those listed in the report. The company is growing rapidly and was recently added to ARC's quarterly analysis of the enterprise software market to provide additional insight into the supply chain planning segment of the market. Meanwhile, Manhattan Associates continued to grow at a rapid pace (12.2 percent) largely due to factors specific to the company and its target markets. In contrast, Autodesk reported a substantial reduction (-20.8 percent) in revenue for the quarter. The company is one of many enterprise software suppliers transitioning from perpetual licensing to a subscription model and is experiencing negative revenue comparisons as a result of the different revenue recognition methods. At the same time, PTC reported a 13.2 percent year-over-year decline in revenue. Like Autodesk, PTC attributed the revenue reduction to a higher mix of subscriptions in the overall mix of the quarter's business.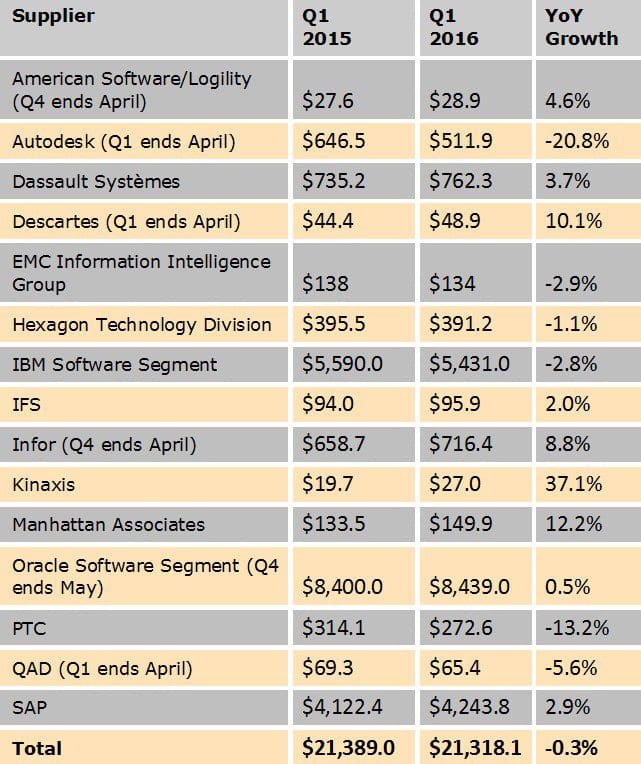 Conclusion
Enterprise software suppliers had mixed results in Q1 2016 with the changing business model from on-premise to SaaS deployments. The transition of many suppliers' businesses from perpetual licenses to a subscription model delayed revenue recognition, slowing overall growth. Currency translations had a very mild impact. ARC believes that the market will return to historical growth levels in the rest of FY16.
This is a quarterly report, published after all the companies on the list release their revenues. If you would like a complete copy of this analysis, including the results of the fifteen enterprise software companies covered, please contact chanf@arcweb.com.