This week I traveled to New Orleans for the annual MercuryGate User Conference. As always, I find these conferences to be fantastic opportunities to learn, network, and think about how companies are solving problems in new ways. And this one was no exception. Next week, in my Wednesday column, I will have some takeaways from the conference. This year's conference also marked the first time I have been to New Orleans since I was a sophomore in college attending Mardi Gras (my trip this time was a little bit different). It also marked the first time I have eaten alligator, which I did on two separate occasions on this trip. I've heard people say it tastes like chicken, and for the most part, they're right. It was also the first time I saw a riverboat cruising down the Mississippi. All in all, it was a great trip to a great conference, and I'm already looking forward to attending in Las Vegas next year.
And now, on to the news.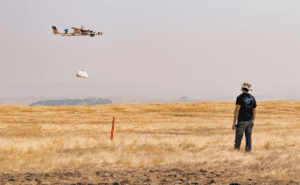 Project Wing, a unit of Google's parent company Alphabet Inc. and Chipotle Mexican Grill have partnered to test a new delivery method. Starting this month, students at the Virginia Tech University can receive burritos delivered by drone. The Federal Aviation Administration (FAA) approved the venture, which is the most extensive test yet in the US. Project Wing uses self-guided drones that fly like an airplane or hover like a helicopter. The drones will deliver food from a Chipotle food truck nearby. The drones will hover above the delivery location and lower the burritos down via a winch. Food, especially hot food, provides a challenge for drone delivery, as it will need to stay hot and maintain proper packaging. It is a perfect product for this type of test. If the tests go well, I imagine students nationwide will be hoping for burrito delivery drones on their campus.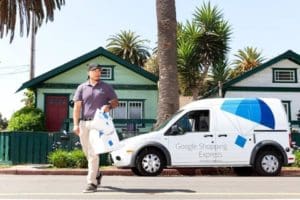 Speaking of Google, the company is expanding Google Express, its fastest delivery service, to more than 40 million consumers in the Midwest. The largest market it is expanding to is Kansas City. The two-day delivery service will kick off this month. An annual membership to Google Express is $95 a year, slightly less than Amazon Prime's $99 rate. For those customers who do not want a membership, individual orders cost $4.99 per order. Among the 20 retailers Google Express works with in Kansas City are Costco, Barnes & Noble, PetSmart, Kohl's, Guitar Center, Walgreens, and Whole Foods.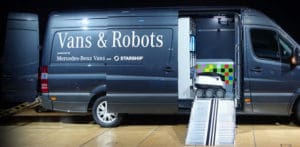 Starship Technologies, maker of six-wheeled package delivering robots, is partnering with Mercedes-Benz for home delivery service. The partnership includes the development of a van that is capable of transporting and deploying six of the robots onto sidewalks to make deliveries. According to Allan Martinson, Starship's chief operating officer, the average volume of deliveries is 180 in a nine hour shift for a typical van driver. However, by using a van that can deploy multiple robots, that number will jump to 400, while reducing street congestion and CO2 emissions. This is due to the need for less van drivers. It will certainly be exciting (maybe) to see our sidewalks overrun by delivery robots.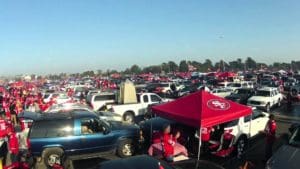 Amazon is always looking at new ways to reach customers. And now the company is at it again. Amazon Prime Now has touched down at the San Francisco 49ers Levi's Stadium. NFL fans tailgating at the stadium before a 49ers home game can make a purchase from Amazon.com and have it delivered to their parking spot in an hour or less, the stadium recently announced. The customer simply lists their zip code as the stadium zip code in either the Prime Now app or PrimeNow.com and will see a list of thousands of products that can be delivered. When checking out, consumers enter the stadium's address, their parking lot number and the nearest parking flag number in the delivery notes. The service is available only to fans in Red Lot 1, Green Lot 1 and Blue Lot 1. This is the perfect service for those tailgaters who forgot any grilling or drinking essentials.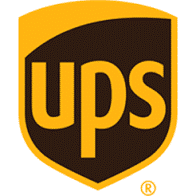 It's not even officially fall, but companies are gearing up for the holiday season. UPS has announced it will add about 95,000 temporary employees to handle the last minute crunch of holiday shipping. This number is about the same as last year. Since enduring a rough 2013 holiday season due to a large influx of last minute orders, the company has invested heavily in technology and employees to handle the rush. Similarly, Target has said it plans on hiring about 70,000 seasonal workers, with 7,500 dedicated to fulfillment centers. The other big players in the holiday rush, FedEx and Amazon, have not released their expected hiring numbers, but I suspect they will similar to last year, at around 55,000 and 100,000 respectively. We will keep an eye on this and report back with our annual state of the holiday season article (2014, 2015).
And finally, Both U.S. rail carload and intermodal volumes saw annual declines in August, according to data issued this week by the Association of American Railroads (AAR). August carloads were down 6.6% annually, or 95,341 carloads, to 1,347,989. The AAR said that 8 of the 20 carload commodities it tracks saw annual increases, including: grain, up 24.7%; waste and nonferrous scrap, up 25.4%; and chemicals, up 1.1%. Commodities that were down included coal, down 16.1%; petroleum and petroleum products, down 25.1%; and crushed stone, gravel and sand, down 6.9%. Excluding coal, ARR said that August carloads were down 1% in August 2016 from August 2015.
That's all for this week. Enjoy the weekend, and the song of the week, Born on the Bayou by CCR.