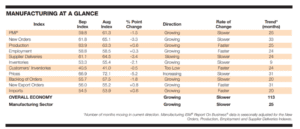 October 5th was National Manufacturing Day. This yearly celebration of modern manufacturing strives to address common misperceptions about the industry and give manufacturers a day to showcase what they do and examine some of the most important aspects of their world.
But taking time to focus on what's going on in the world of manufacturing is more than just a fun celebration. It's important to effectively adapting to changing market conditions in order to maintain a smooth, efficient supply chain. So, in honor of Manufacturing Day, we want to examine current trends in the sector and ways that shippers are approaching these market conditions.
The State of Manufacturing
The Manufacturing Index is currently at 59.8%, and the sector is consistently growing, with activity expanding in September of 2018 (while the overall economy also grew for the 113th consecutive month).1
Similar to other verticals, the manufacturing market continues to be impacted by the capacity crunch, and the ongoing growth in this sector means that even more capacity is needed. The capacity shortage is exacerbated by the current state of the economy and the driver shortage, and that tightness has presented challenges throughout this year and will most likely continue to do so into 2019.
This means that it's critical for manufacturing companies to continue to become nimbler in order to adapt to the ever-shifting market – especially as the "Amazon Effect" continues to cause major disruption across many supply chains and demands more efficiency and further collaboration between shippers and carriers to deliver product to customers where and when they expect it.
Actionable Steps for Manufacturing Shippers
In order to ensure that their operations are nimble, optimized and efficient, there are a number of key steps that manufacturing shippers can take.
Work toward a broader supplier compliance program, collaborating closely with suppliers to combat any ongoing issues and achieve greater compliance.
Compliance reporting and supplier score-carding can help with this process, including inbound compliance metrics. Are goods available to ship on time? Are they complete? Setting expectations with suppliers is key.
Visibility is also critical, and shippers should be benchmarking both internally and analyzing how they are performing in comparison to their peers, which will in turn help with warehouse flow and maximizing process efficiency.
Shippers should examine their utilization of trailer pools to free up floor space. Trailer pools must be efficient and lead times must be optimized to help combat capacity constraints.
Keep in mind that customers may be holding less inventory, meaning there is less lead time for shippers, and adjust accordingly.
Analyze raw materials and inbound/outbound flow to determine where there are opportunities for enhanced efficiency and cost savings.
Consider mode conversion and examine the mix of railcar, truckload and intermodal to optimize.
Conduct holistic network optimization studies. This includes examining inventory, inbound and outbound shipments, potential relocation of distribution centers, etc.
Focus on being strategic with procurement events, taking the right freight to market based on available lanes within the carrier network, and being as strategic as possible with routing guides.
Additionally, working with their 3PL partners can help those in this space maximize their success in this time of vertical growth.
1https://www.instituteforsupplymanagement.org/ISMReport/MfgROB.cfm?navItemNumber=31076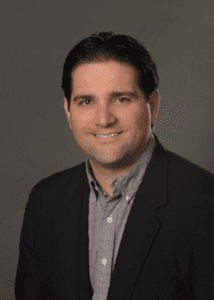 Darren Miesner currently serves as vice president of operations for Transplace. He joined Transplace in August 2000 and has had several roles within operations including front-line support, logistics supervisor, operations manager, general manager and director of operations. Mr. Miesner has managed many Fortune 500 clients and industry verticals during his 18 year operationally focused tenure that include manufacturing, retail, quick serve, and CPG. Mr. Miesner completed a Lean Six Sigma Green Belt Course through the University of Texas at Arlington in August of 2005 and received his Lean Six Sigma Green Belt certification from Transplace in May of 2006. He received a Bachelor of Arts in Mathematics from the University of Arkansas.