I've said it before (right here in Logistics Viewpoints), but it's worth repeating: the digital transformation of our complex global supply chains is an ongoing journey. And progress comes in increments both large and small as we build on the breakthroughs and innovations that have come before.
Nine years ago, my company FourKites pioneered the market for real-time transportation visibility. And in the intervening years — as we've leveraged real-time data, ML and AI to help countless companies answer the "where's my truck" question — I've continued to underscore that visibility is a foundational technology.
In other words, visibility is an enabler. Once you know where that truck (or train, plane or container) is, that's when things get really interesting. That's when you can course correct in any number of ways that make your business more efficient and your customers happier.
We're currently on the cusp of a big incremental change in the industry's transformation journey, as the value of real-time supply chain data is increasingly being felt far beyond transportation logistics. The paradigm is shifting from foundational visibility to real-time decision-making, with positive implications for supply chain teams spanning sourcing & procurement, to production, to yard & DC operations and beyond.
Why is this shift such a big deal? We don't have to think back very far. The entire supply chain industry was caught flat-footed by the seismic disruptions wrought by the pandemic. It was precisely the industry's inability to make real-time decisions (based on real-time data) that was at the root of depleted store shelves, clogged ports and warehouses overflowing with excess inventory.
Lesson learned.
Thankfully, technology has progressed to a point where we are able to overcome the challenges presented by an incredibly complex stack of legacy supply chain systems that has accumulated over decades — from ERP databases to demand planning and TMS systems, to control towers, data lakes and BI solutions.
Amongst their many problems, these earlier-generation technologies weren't architected to ingest and process the massive volumes of real-time data now being generated by billions of IoT sensors, telematics devices, cameras and the like. Moving data between systems was complex and laborious. And attempts at analytics and insights were invariably slow and backward-looking — a classic "too little, too late" answer for dynamic supply chain issues.
By contrast, today's supply chain systems are architected to ingest and monitor huge quantities of real-time data, including external data — logistics, GPS, ELD, weather, telematics — that is critical for generating AI-driven predictions and insights. And modern, API-first data strategies have vastly improved portability, ensuring data can be easily moved and shared between any cloud and any application.
With that enabling technology in place, the industry can now start to solve for an ever-larger set of supply chain use cases. The key is to not "boil the ocean," but rather to implement a data model that contextualizes data for specific processes or workflows.
A simple way of thinking about this is to design your model to answer the key questions posed by various supply chain roles. Some examples:
Procurement and Co-manufacturing: What is the impact of inbound transportation issues on materials?
Supply Planning and Deployment: Will any intra-network disruptions cause imbalances in warehouse and transportation capacity?
Production Planning and Scheduling: Will any inbound disruptions cause issues with production planning and firm schedules?
Co-Pack Planning and Execution: What is the impact on shippers and MOD?
Consider a common inbound use case. A retailer places a make-to-order PO with an overseas factory. The lead time is anywhere from 90 to 120 days — but there's a lot of uncertainty in the process. If you're Walmart or Target, you put teams on the ground, in-country, to take a constant pulse of order status. But most companies can't afford to do that. Instead, they have to wait and hope, only to find out when the order arrives at the warehouse that they are missing 1/3rd of the order, or there's a quality issue.
This is exactly the kind of situation real-time systems are made to address. With integrations between ERP systems, manufacturing systems, warehousing systems and the like, the retailer can be notified early of a manufacturing issue and place an order with an alternate vendor.
Transportation data has so many applications and use cases to enable decision-making beyond transportation — upstream and downstream, provided that data is contextualized in the right way for specific processes and workflows.
The ability to enable real-time decision-making across so many potential supply chain use cases represents a genuine paradigm shift in how the industry will operate. And the potential gains — in efficiencies and in crises averted — are practically incalculable. That makes it a shift that should capture the imaginations not only of Chief Supply Chain Officers, but of Chief Financial Officers and Chief Operating Officers as well.
**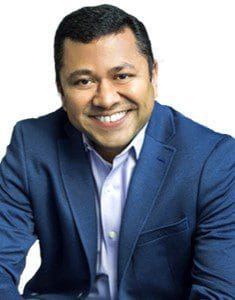 Matt Elenjickal is the Founder and Chief Executive Officer of FourKites. He founded FourKites in 2014 after recognizing pain points in the logistics industry and designing elegant and effective systems to address them. Prior to founding FourKites, Matt spent 7 years in the enterprise software space working for market leaders such as Oracle Corp and i2 Technologies/JDA Software Group. Matt has led high-impact teams that implemented logistics strategies and systems at P&G, Nestle, Kraft, Anheuser-Busch Inbev, Tyco, Argos and Nokia across North America, Western Europe and Latin America. Matt is passionate about logistics and supply chain management and has a keen sense for how technology can disrupt traditional silo-based planning and execution. Matt holds a BS in Mechanical Engineering from College of Engineering, Guindy, an MS in Industrial Engineering and Management Science from Northwestern University, and an MBA from Northwestern's Kellogg School of Management. He lives in Chicago.