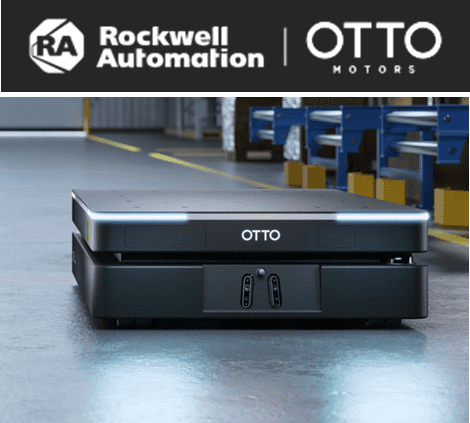 Rockwell Automation hosted its user conference, Automation Fair, in Boston, MA during the week of November 6.  Many of my ARC Advisory Group colleagues were in attendance due to our company's strong focus on manufacturing automation. However, it was a different experience for me due to my focus on logistics technologies. I attended because of Rockwell Automation's recently expanded presence in production logistics due to its acquisition of OTTO Motors. This was my chance to obtain a deep dive into OTTO's decision to focus on production logistics – in contrast to the numerous autonomous mobile robotics (AMR) companies that focus on warehousing and fulfillment processes. And OTTO's founders, Matt Rendall and Ryan Gariepy were available to tell all facets of the company story.
OTTO Motors Carves Out a Niche in Production Logistics
The team at OTTO Motors expected early-on that the warehouse logistics and fulfillment environment was going to be an easy-to-enter and quick-to-commoditize segment of the AMR market. They felt this would be due to the repeatability of uses across facilities. In contrast, their early experiences within manufacturing environments had a great deal of variability that depended on the specifics of the manufacturing operation. The variability they encountered was heightened by the fact that manufacturers viewed AMRs as a means to automate processes that were not historically addressable with traditional automation. This variability in manufacturing operations led the OTTO team to develop its AMR offering as a platform on which applications can be activated to meet specific needs.
OTTO's technology development is guided by three main tenets. First is safety without compromising productivity. Second is usability with a high degree of configurability. Third is an open architecture that is easily integrated.
Systems Integration and Customization
OTTO Motors has developed an ecosystem that includes systems integrators that specialize in specific industries or geographies. These integrators build applications on top of the platform that enable customers to adapt their AMR fleets to the variabilities of each operation. The difference in the movement of tires across automotive manufacturing plants is an example that was used to illustrate the need for adapting the AMRs to site-specific workflows. Systems integration and customization are applied at the vehicle level and at the fleet manager level.
At the vehicle level, OTTO created an attachment interface that is designed for tools that move materials on and off the AMRs automatically. OTTO developed the most common attachments and made them part of the standard offering. These standard attachments include a hydraulic lift, a roller conveyor, and a cart. Systems integrators address less common and more specific attachment needs enabling the AMRs to interface with particular machinery for very specific applications.
OTTO Motors' fleet management system includes two APIs. One is an OPC UA-based interface for connecting to the factory control layer. The other is a web-based API that allows the fleet manager to interface to supervisory IT systems such as an MES, ERP, or whatever system is overseeing the manufacturing operation. Within the fleet manager itself, low-code or no-code programming capabilities are included to codify the rules that exist on the factory floor, such as routes, pathways, and other delivery logic. OTTO's customers tend to be very large manufacturing companies and these companies often have OT and IT staff on-site that handle their own fleet manager integrations and configurations. Finally, there are some software-focused customers and partners that are developing applications that extend the fleet manager capabilities in a way that you would see in enterprise technology ecosystems, providing capabilities of interest to a segment of customers.
OTTO Motors' Production Logistics Value Drivers
OTTO Motors' business is focused on production logistics – as opposed to warehousing and fulfillment. Production logistics has different requirements with respect to variability by operation and integration needs. Adding more complexity, the tasks that OTTO AMRs are handling are difficult to automate with traditional automation. Furthermore, OTTO Motors focuses on large manufacturing plants with large numbers of vehicles and substantial integration requirements. Large plants such as these are high cost-of-failure environments. These characteristics indicate that OTTO Motors delivers value to its clients by addressing historically difficult-to-automate processes in environments where safety, consistency, and reliability are of the greatest importance. Furthermore, the OTTO Motors ecosystem supports its ability to address a wide-range of needs in this differentiated market segment. The Rockwell Automation installed base will certainly serve as a broad opportunity for expanded adoption of OTTO Motors solutions.