Supply chain disruptions are not a new thing. I've written about them quite a bit this year, whether they were due to bad weather, political unrest, driver shortages, or faulty equipment. And we've certainly seen supply chain disruptions due to employee strikes or walk-outs. These incidents are usually due to what employees feel are unfair wages, benefits, or working conditions. Well Demoulas Market Basket has a new one: they want their CEO back.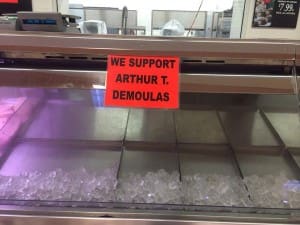 Demoulas Super Markets, Inc, which uses the trade name Market Basket, is a chain of 71 supermarkets in New Hampshire, Massachusetts and Maine in the United States, with its corporate headquarters located in Tewksbury, MA. Market Basket is well known as a low price grocer, with a diehard following, and incredibly busy weekends. In 2008, Arthur T. Demoulas, CEO and grandson of Market Basket's founders, was elected as President of the company by the board of directors. It's been a rocky ride, and he nearly lost his position in 2013. About a month ago, Arthur T. Demoulas and two top executives were fired by the board of directors. Two consultants have since been brought on board to run the company.
Market Basket employees were not happy with this decision. Employees demanded that Demoulas be re-instated as CEO, and threatened a walkout and strike if their demands were not met. When they didn't hear an answer by the middle of last week, they issued an ultimatum to the board, saying they needed an answer by 4:30 p.m.  The answer (which would allow some employees to meet and speak with the board) was not satisfactory, so a walkout ensued.
Employees held a rally at the Tewksbury headquarters and warehouse, essentially deciding not to work. With the warehouse not operating, trucks could not be loaded or unloaded, and deliveries could not be made. All of this meant a complete halt to shipping receiving store inventory. The halting of inventory has brought the company to a standstill, and has left store shelves empty. This is certainly one way to get management's attention. Individual stores have also joined in the protest, either by striking and not stocking shelves, or by blocking outside carriers to make deliveries. The produce, meat, and dairy cases in stores are completely devoid of merchandise. As far as supply chain disruptions go, this one has no end in sight, and a stalemate is expected from both sides.
And customers are taking notice (and taking to Twitter). Social media has seen a slew of posts and pictures detailing the lack of inventory availability at stores. And this is becoming a big issue as well. Most Market Basket customers are loyal to the store. However, if they can't get the products they need, they will shop somewhere else. It is going to be interesting to see how this all plays out, and when trucks will begin to make deliveries and store shelves will be stocked again. If the days turn into weeks, Market Basket will have to make a big move. It's just a question of what that move will be.