MercuryGate's User Conference 2014 was in New Orleans last week.  MercuryGate, of course, is a best of breed provider of transportation management systems (TMS).  At a conference sponsored by a TMS supplier, you would expect much of the talk to center on the freight savings that can be achieved with a TMS; and this was of course discussed.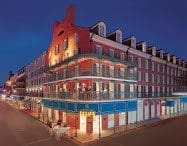 MercuryGate Conference Location:
Royal Sonesta Hotel on Bourbon Street
But the greatest issue keeping shippers and brokers up at night in today's market are the capacity issues – the difficulty of just finding carriers that will cover your lanes.  Based on this, a key area of discussion was the role a TMS can play in resolving capacity issues, and some important TMS features that support this.
TMS solutions have routing guides that display the preferred carriers by lane.  In a capacity crunch, you should expect that tenders are going to be rejected more frequently.  Users would be well advised to add more carrier choices on each lane.
But the process of onboarding carriers is not trivial.  A shipper or broker needs to make sure a carrier's drivers have good safety records, that the carrier has enough insurance, that the company is financially stable, etc. MercuryGate has a solution called Carma (which stands for carrier management). Carma is the most functionally rich carrier management functionality that I have seen (Supplier Relationship Management Functionality Comes to TMS).  And a solution like Carma makes it less onerous to add new carriers and to monitor these relationships over time.
There was an interesting tip made about the use of Carma.  It was suggested that if you choose to never work with a carrier again, do not delete the carrier from Carma.  Leave the carrier in the supplier management solution with a note that they are not a reliable partner and are not be used.  If you delete the carrier, and end up scrambling to cover a load, you could inadvertently end up working with a bad player.
Secondly, the analytics in a TMS can play a role.  One key metric around capacity is the percentage of times the primary carrier on a lane rejects tenders.  If your number one and two carriers on lanes are consistently rejecting tenders, if may be a sign that market conditions have changed such that the rate you signed some months ago is no longer valid.  In this case, you may want to make the number three carrier the primary carrier for that lane, let the number one and two carriers know you are now paying a higher rate on this lane, and add new carriers to the route guide.
Oftentimes when a company cannot cover loads, they tender out to load boards.  But there are risks in dealing with carriers you have not worked with before, and if time is short, working through the full due diligence carrier process might be problematic.  MercuryGate has a product called FreightFriend that can be useful here.  This solution stands midway between a broadcast tender and a load board.
Freight Friend is a private network website for shippers, brokers and carriers. Shippers and brokers post loads that are visible only to the carriers they trust – their "friends". Carriers post available capacity and regular lanes to one web site, knowing that only their shipper or broker "friends" can see and utilize them. Full radius based searching and matching functionality seamlessly connects the right loads with the right trucks.
Finally, optimization has a role to play.  Fewer loads tendered probably means fewer loads rejected and less scrambling.  Optimization helps companies more fully load their trucks, combine loads, and drive fewer total miles.  Continuous move functionality is a form of optimization that becomes increasingly important.  If you have a carrier taking your goods to Florida, where backhaul opportunities are limited, that is a load very likely to be rejected by multiple carriers.  But if you can link the drop off to a pickup of a load in the adjoining state of Georgia, that tender becomes much more interesting to a carrier.
No one at the conference thought that the capacity issues could be resolved in less than two to three years – driver shortages, equipment sell offs, and tougher regulation make this the toughest market many shippers have seen in their lifetimes.  Shippers will be prioritizing service over savings for the foreseeable future, and they need systems that help them do this!