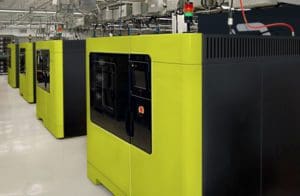 UPS Invests in a 3D Printing Firm to Learn
UPS actively monitors emerging technologies including 3D Printing. 3D Printing, also known as additive manufacturing, was not that interesting to UPS initially. But as industrial manufacturers began making components, not prototypes for R&D, but direct material components used in finished products, UPS began to become interested. In time, they realized that this could be a megatrend that could reshape the face of the logistics industry.
Alan Amling, a VP of Corporate Strategy at UPS, spoke about their journey to provide 3D Printing services at a SAP event for industry analysts in Atlanta on November 9th. UPS is a global leader in logistics, offering a broad range of solutions including transporting packages and freight; facilitating international trade, and various types of warehousing, consulting, and value added services. SAP, a leading provider of enterprise software, is an active partner with UPS in making this an economically viable service offering, in part by leveraging their Ariba sourcing network to make these types of suppliers easier for prospective customers to find and onboard.
The third party logistics (3PL) business is changing. There are a wider set of competitors than just other providers of logistics services. For example, IT companies like Uber have emerged; these are crowdsourcing companies that don't actually own assets. When it comes to package delivery, density drives the parcel business. UPS looks at companies like Uber and wonders whether crowdsourcing could change the economics of their business.
UPS also sees a world in which cities are becoming increasingly dense. When ecommerce goes from 9 percent of retail to 30 percent, how feasible will it be to deliver all those packages? "If we want to be around another 100 years, Mr. Amling stated, "drones, crowdsourcing, and 3D printing are the megatrends we have to stay on top of."
UPS is good at managing risks. But when it comes to these megatrends "it is not about managing risks, it is about managing uncertainties" according to Mr. Amling.  Risk has known outcomes with attached probabilities. Uncertainties have unknown outcomes and thus there can be no knowledge of the probabilities associated with a particular outcome.
UPS's strategic investment arm, the UPS Strategic Enterprise Fund, took a stake in a company called Fast Radius that provides 3D printing, CNC, and rapid injection molding services for industrial companies. "We did this," Mr. Amling said, "just to learn about the potential of this technology." Fast Radius is located in a facility owned by UPS in their Louisville air hub.  A second Fast Radius production cell within a UPS facility will open in Singapore by the end of the year.
This sort of investment is not unusual for UPS. In order to learn about crowdsourcing, they made investments in the same day delivery startups Deliv and Shutl; and to learn about drones they invested in CyPhy Works.
This is a journey for UPS.
Additive manufacturing will certainly cut down on the warehousing space a company needs and frequently it will reduce their transportation spend as well. But UPS's perspective is that this will happen, someone will bring this to market. "You don't want to be the bug on the windshield," Mr. Amling said, you want to be the windshield." While this service line may reduce revenues in some areas, it adds and other solution to the set of logistics solutions they can provide.
Selling existing customers on an additive manufacturing service has been a challenge. Many of their customers expressed interest but did not want to be a pilot customer. Everyone UPS talked to was concerned about quality.  As opposed to prototypes, where there is not an extensive certification process, the opposite is true for direct materials. One of SAP's key contributions to this partnership is process knowledge around quality and supplier certification.
A printed component has different structural characteristics. A printed part might, in some cases, have a longer lifespan or superior performance, but it can never be considered an exact duplicate of a part produced by traditional manufacturing processes. Because of this, most of their initial eight beta customers are focused on less critical parts. An aerospace company, for example, is printing parts for the interior of the airplane.
These quality concerns mean that industrial manufacturers will never look to go with the 3D printing company that provides the lowest bid. "There will always be vigorous vetting," Mr. Amling averred. And there will, for the foreseeable future, be limits on the production runs. "A company that needs a 1,000 parts" of some SKU "will not produce them with 3D printing."
Because they are looking at smaller volume SKUs, this will in large part become part of their service parts logistics offering. For UPS's customers this will allow them to print smaller quantities, more often, and closer to the point of use. Mr. Amling pointed out this will take "time, cost, and carbon" out of the customer's supply chains. Customers that already use UPS to help manage their service network may find this service will reduce their costs. For UPS, it is another tool in their tool kit that they can use to provide value. "Today," Mr. Amling said, there is not good solution for slow moving parts. There is now."
Once an industrial manufacturer decides to do a pilot with UPS and Fast Radius, they send over a CAD file of the product. After that, an additional 2 to 3 hours of further engineering work are required to produce a more detailed CAD capable of driving a 3D Printer. The warehouse then needs to store the right materials to print the component.
UPS today is a key service parts logistics supplier to many customers. Mr. Amling pointed out that the new offering is "allowing us to have broader supply chain conversations" with customers and prospects and "to learn by doing."