Happy St Patrick's Day! It's a day to wear green, and apparently, spend some green as well. Every year, the National Retail Federation conducts a survey on St. Patrick's Day spending. This year, 61 percent of consumers plan to celebrate St. Patrick's Day, up from 54 percent in 2022 and the highest in the history of the survey. With more celebration comes more spending, and consumers are sparing no expense to go all out for the holiday this year. Consumers plan to spend a total of $6.9 billion — $1 billion more than last year — or an average of $43.84 per person. And just what are consumers spending their money on? The top categories are food, beverages, apparel / accessories, and decorations. But I see one missing category: live music. Last night, as part of their annual St. Patrick's Day Boston run, I took my son to his first concert to enjoy the Celtic-punk loudness that is the Dropkick Murphys. It was a raucous show, but thankfully I kept him out of the pit. It was certainly a good way to kick off the St. Patrick's Day weekend. And now on to this week's logistics news.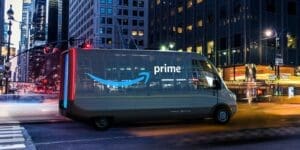 Rivian  and Amazon are in discussions to adjust the exclusivity clause of their agreement for the EV maker's electric delivery trucks, a company spokeswoman said Monday. Eliminating the exclusivity piece of the agreement would allow Rivian to court new customers as it works to ramp production of the vans and its R1 series pickup and SUV. The company is also working on a forthcoming R2 model and is in need of cash. Last week, Rivian announced plans to raise $1.3 billion via a sale of convertible notes to help fund R2 development and launch. Rivian and Amazon struck a deal in 2019 to hand over 100,000 electric trucks to the e-commerce giant. Amazon began delivering packages with the vehicles in July, and Rivian last month touted 10 million packages delivered via the vans. However, orders for this year come in around 10,000 vehicles, which is lower than Rivian was hoping for. Rivian spokeswoman Marina Norville said in a statement the company's relationship with Amazon has and continues to be a positive one.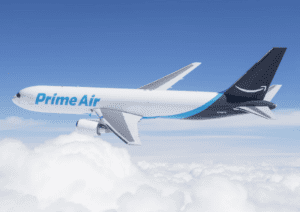 Amazon Air's network is starting to look more like the hub-centric models of air cargo giants FedEx and UPS. Amazon has ramped up air cargo flights at its largest hubs while maintaining or shrinking flight activity elsewhere, according to an institute tracking the company's air operations. Between August 2022 and March 2023, Amazon Air's domestic takeoffs and landings grew 2.8 percent, per the Chaddick Institute for Metropolitan Development's report as it reduces its reliance on point-to-point flying, per the report. This approach allows the company to benefit from faster connections between hundreds of flight combinations while also complementing its trucking network. Amazon Air's CVG hub is a critical component in that strategy. The 800,000-square-foot facility's central location in the U.S. helps it facilitate the rapid transport of packages. Activity at the hub has surged of late, growing from 44 to 58 daily flights since September, according to the report. Growing flight capacity at CVG helps Amazon keep next-day deliveries on schedule even for coast-to-coast shipments.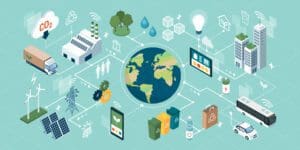 Cardinal Health, which is a half-century old, operates in 35 countries and has 44,000 employees. It strives to reduce waste and increase energy efficiency at its facilities and transportation fleet. The company has signed on to the Science Based Targets initiative, which aligns with the Paris climate agreement to limit temperature increases. To that end, it has set greenhouse gas emissions goals, vowing to limit its Scopes 1 and 2 emissions by 50 percent by 2030, using 2019 as its baseline. The company says it will announce its Scope 3 goals at the end of this year. Scope 1 is linked to operations; Scope 2 is tied to the fuels it buys from others, and Scope 3 is associated with the supply chain. Cardinal Health can improve its supply chain emissions by using more efficient transportation and logistics as a distributor of pharmaceuticals and medical products. To that end, it has created a program to consolidate shipments, ensure fewer partial loads, and highlight the movements of its vehicles.
A California bill that would require human drivers inside robotic trucks will force Democratic lawmakers to choose between their labor allies and Silicon Valley over how to regulate the emerging autonomous vehicle industry. Tech companies contend the bill would disrupt ongoing efforts by the Department of Motor Vehicles to create road rules for the big rigs and trucks of the future. Unions, most notably the International Brotherhood of Teamsters, argue those regulations could portend an end to many trucker jobs, and that autonomous vehicles' safety on the road is still undetermined. The autonomous vehicle industry is fighting the bipartisan measure (A.B. 316), authored by Assembly members Cecilia Aguiar-Curry (D) and Tom Lackey (R), which has a significant presence in the state as the Bay Area is home to seven companies who hold DMV permits to conduct testing of driverless cars. The bill was introduced after the DMV announced it would develop regulations to let companies test driverless 18-wheelers and other vehicles weighing over 10,001 pounds.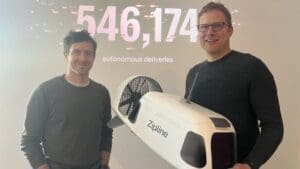 Logistics startup Zipline has flown more than 38 million miles with its autonomous electric delivery drones since the company was founded in 2014. Zipline put its first fleet to work in Rwanda, delivering blood and other health supplies to clinics and hospitals. On Wednesday, Zipline showed off its next-generation aircraft, which it hopes will be able to make residential deliveries in the near future. The new drone, dubbed the Platform 2 or P2 Zip, is capable of carrying up to eight pounds worth of cargo within a ten-mile radius, and can land a package on a space as small as a table or doorstep. While Zipline's original drone, the P1 Zip, features a fixed wing or glider-like design, the P2 employs both lift and cruise propellers and a fixed wing. To deliver cargo to a customer's door, the P2 Zip hovers around 300 feet above ground level and dispatches a kind of mini-aircraft and container called the "droid." The droid descends on a long thin tether, and maneuvers quietly into place with fan-like thrusters before setting down for package retrieval.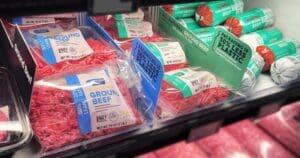 Several grocery chains have tested new case-ready meat packaging from Tyson Foods that's more eco-friendly and extends product shelf life. Called "flow wrap," the packaging uses about 50 percent less plastic and 50 percent less energy in the manufacturing process versus traditional expanded polystyrene product packaging, according to Springdale, Arkansas-based Tyson. The flow wrap packaging was developed to keep the meat fresher—up to three times longer—and its airtight environment also helps maintain color and allows consumers to freeze the product without impacting quality, the company said. Currently, flow wrap packaging has been introduced only for ground beef, but it's being considered for other case-ready meat products. Grocery retailers that have piloted or are piloting the packaging, they said, include Hy-Vee, Meijer, and Festival Foods.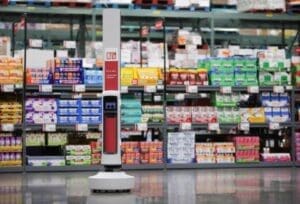 In an effort to get greater visibility into club conditions and gain deeper business insights, BJ's Wholesale Club is rolling out Simbe Robotics' business intelligence solution Tally across its 237-store footprint. Tally is powered by artificial intelligence (AI) and will ultimately help improve operational efficiencies and enhance the overall shopping experience. Tally rolls down club aisles multiple times per day and leverages AI and computer vision technology to collect shelf data and help ensure products are in stock, shelved correctly and accurately priced. The autonomous robot will allow BJ's associates to refocus more of their time toward other tasks and helping customers. The real-time data provided by Tally will give greater visibility into inventory tracking and also unlock efficiencies that enable faster product restocking. It will also help BJ's associates and customers quickly locate products. Additionally, data captured by Tally can be virtually reviewed to ensure optimal club conditions and accurate merchandising execution.
The job losses suffered by the truck transportation sector in February have almost no precedent in the last 10 years, except for the massive drop in April 2020 and a similar drop almost 10 years ago. The Bureau of Labor Statistics (BLS) data showed the truck transportation sector saw a decline of 8,500 jobs in February, coming in at 1,599,900 on a seasonally adjusted basis. Outside of April 2020, the only bigger one-month decline was 9,000 jobs in March 2013. Before the February report, there had only been three months since the pandemic began in which truck transportation jobs declined, with the largest one-month drop coming in March of last year, when jobs declined 3,100 jobs. Other than those three months, it had all been gains. The decline from January was accompanied by a revision in the original figure reported last month for January. The revised January total of 1,608,400 jobs is a downward adjustment of 6,300 jobs from what BLS had initially reported.
That's all for this week. Enjoy your St. Patrick's Day, the weekend, and the song of the week, The State of Massachusetts by the Dropkick Murphys.