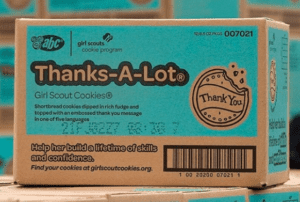 A few weeks ago I wrote that Little Brown Bakers, the manufacturer behind Girl Scout Cookies, is warning of unforeseen supply issues that will be impacting both manufacturing and distribution of its treats. The company said that digital orders could take longer than normal to fulfill due to unforeseen supply chain shortages, but in-person distribution of cookies will not be impacted by the supply chain issues. These shortages have sparked growing demand on the resale market. Specifically, the launch of a new flavor, Raspberry Rally, is turning a fundraiser into a moneymaker. Single boxes of the cookies, which have a crispy raspberry-flavored center coated in chocolate, cost from $4 to $7, but they are selling for as much as $35 on the secondary market. An eBay representative said in a statement that while the company encouraged cookie fans to support their local Girl Scouts, the resale of the cookies did not violate the platform's policies. However, the Girls Scouts said in a statement that most local Girl Scout troops had sold out of the "extremely popular" Raspberry Rally cookies for the season and emphasized that it was "disappointed" to see unauthorized resales of the flavor. And now on to this week's logistics news.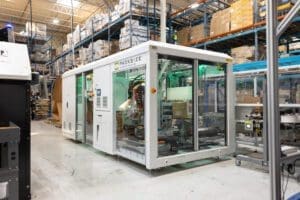 Walmart and packaging specialist Packsize have announced that they will collaborate on a right-sized, on-demand box machine using technology designed for Walmart's deployment. The machine, called the Ultra5, has already been installed in the first of Walmart's four next-generation fulfillment centers, Packsize said. As is the case with Packsize's legacy X5 machine, the Ultra5 can produce up to 600 boxes per hour. By right-sizing the boxes, the technology minimizes the costs and environmental impact of unneeded corrugated box material, Salt Lake City-based Packsize said. The box configuration also allows retailers to fit up to one-third more boxes on carrier trailers, which ultimately gets more orders to customers each day, according to Packsize. The speed of the box's throughput enables orders to be packaged, labeled and ready to ship in 30 minutes. The Ultra5 also includes what Packsize calls a "Flaps Down" feature that allows boxes to flow through the packaging process by placing a paper band around the flaps to secure them to the sides of the box. This feature improves the ergonomics involved in picking and placing items for the worker, according to Packsize.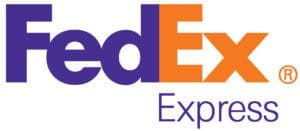 FedEx has hiked its full-year earnings forecast as it said cost-cutting measures offset continued demand weakness at units including FedEx Express. FedEx now expects adjusted earnings per share for fiscal 2023 of between $14.60 and $15.20, up from a prior forecast of between $13.00 and $14.00. Wall Street had expected full-year EPS of $13.56, according to Refinitiv consensus estimates. FedEx reported net income of $771 million for the period, down from $1.11 billion during the same quarter a year earlier. Adjusting for one-time items, FedEx posted per-share earnings of $3.41, which beat estimates but marked a dramatic year-over-year decline from the $4.59 per share it reported for the same period last year. The company reiterated that it is expecting to make more than $4 billion in cost reductions by the end of fiscal 2025. The company's stock spiked more than 11 percent in after-hours trading.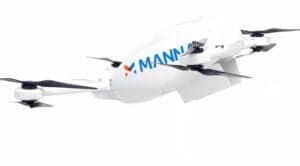 The race for drone deliveries continues to heat up but remains in flux due to concern over regulations in the US. One of the world's most successful drone delivery companies will be expanding to mainland Europe and the United States in 2023. Manna Aero has already done over 100,000 drone deliveries in multiple locations in Ireland and is trending to hit over 1,000 deliveries per day in individual dense urban markets. Each Manna Aero drone does 7 to 8 deliveries an hour at 50 miles per hour at a cost of roughly one-tenth a human driver in a car. The company's latest drone, the X-drone, carries about 7.5 pounds of cargo in a hold with about 1,800 cubic inches of space. It flies deliveries within a relatively small radius: perhaps up to five miles and returns home when battery consumption reaches 60 percent.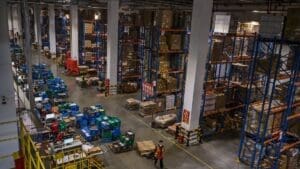 JD.com has been rapidly growing its logistics unit by focusing on warehousing growth, including in international markets. In its corporate blog, the company said it hopes to one day grow two-day delivery to cover the entire United States. The e-commerce provider touted its ability to serve merchants with self-operating warehouses, saying its automation capabilities allow it to extend the order cut-off time by an additional hour. The company is opening a third self-operating warehouse and distribution center in California as it looks to grow its US logistics arm. The new facility will add more than 300 jobs and grow JD.com's warehouse footprint to 1.3 million square feet throughout the state. In addition to the three warehouses in California, it operates two facilities in New Jersey and one in Georgia. At one California warehouse that utilizes a container transport unit system, goods are offloaded onto automated conveyors where they get scanned, sorted and stored by self-operating robots. The company said system improved operating efficiency by 300 percent and increased the number of storage units from 10,000 to 35,000 as robots are able to make full use of the height of the warehouse.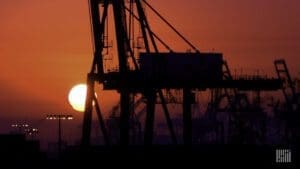 The Port of Los Angeles had expected its numbers to be ugly in February, and they were. Total throughput fell to only 487,846 twenty-foot equivalent units in February, plunging 43 percent year over year. Last month's throughput was down 33 percent from January and 31 percent from February 2019, pre-COVID. Los Angeles looks like it fell back to third place among US container ports for the month of February. The Port of New York/New Jersey topped Los Angeles during several months in 2022; it has yet to report February numbers but U.S. Customs import data implies it will report higher total throughput than Los Angeles. On Tuesday, Long Beach reported February throughput of 543,675 TEUs, coming in 11 percent above Los Angeles. Combined Los Angeles/Long Beach imports totaled 504,377 TEUs in February. The only month in recent years the two ports handled fewer combined imports: March 2020, when trans-Pacific trade was shut down by the initial COVID lockdowns in Wuhan, China.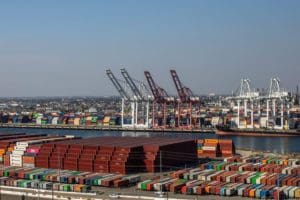 Speaking of West Coast ports, labor tensions are rising. Tensions in long-running contract talks at West Coast ports are worsening, with employers accusing unionized dockworkers of slowing cargo handling at the ports of Los Angeles and Long Beach, the nation's busiest gateway for imported consumer goods. The rhetoric from the two sides marks a shift from a longstanding agreement to maintain public silence on issues around the negotiations, which began last spring. The two sides appear to be no closer to bridging the gap on their disagreements, pointing to the possibility of deeper disruptions to US trade flows. The Pacific Maritime Association, which represents ocean carriers and port employers, said Monday that dockworkers at the ports of Los Angeles and Long Beach had stopped staggering work shifts during mealtimes starting last Wednesday. The PMA said that has forced terminals to shut down every day for an hour in the afternoon and another hour at night, interruptions that have triggered "significant delays" in cargo operations and long backups of trucks at terminal gates.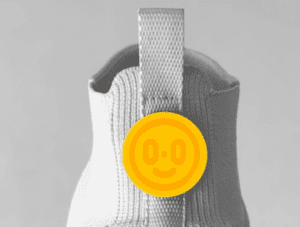 Allbirds has set a new standard for itself in terms of sustainability by creating a net zero carbon shoe. The Moonshot — which Allbirds writes as M0.0NSHOT — is the brand's shoe with a carbon footprint of 0.0 kg CO2e. The company said this was achieved without relying on offsets. According to Allbirds co-founder and co-CEO Tim Brown, the shoe has been more than two and a half years in the making and is the result of an effort labeled Project Moonshot internally. The Moonshot will be produced with several carbon-negative materials and compounds, such as uppers made with regenerative merino wool grown on Lake Hawea Station in New Zealand, as well as the brand's newly developed, sugarcane-based SuperLight Foam featuring 80% bio content. Also, the shoes will come with bioplastic eyelets made alongside renewable bioproducts company Mango Materials. Together, they created a process that uses microorganisms to convert methane into a polymer that can be molded like other plastics without the corresponding carbon footprint.
That's all for this week. Enjoy the weekend and the song of the week, Go All the Way by the Raspberries.