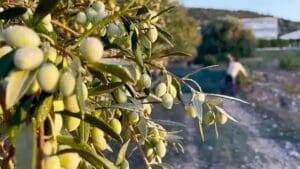 People will steal just about anything these days. I saw an article this week about criminals in the Mediterranean that are stealing olives due to the surging price of olive oil. Warehouse break-ins, accounting scams, and oil tampering are on the rise in the olive growing regions of Greece, Spain, and Italy. But thieves are also raiding unprotected groves and cutting off branches or even cutting down whole trees. The thieves look for heavily loaded branches and they cut them. So, not only do they steal the olives, but they cause the tree serious harm, which can take 4-5 years to return to normal. Spanish police have said they recently retrieved 91 tons of stolen olives, and in February, six people were arrested in southern Greece for the theft of eight tons of olive oil. This oil was stolen in a series of warehouse break-ins. Farmers based around the southwestern Italian port city of Bari say robbers in the area have become increasingly brazen, snatching tractors and expensive equipment along with olives. And now on to this week's logistics news.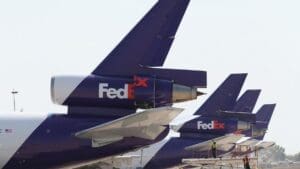 FedEx has launched "a much better machine-learning model" to provide more accurate estimates to customers about delivery times, President and CEO Raj Subramaniam said earlier this week. The model factors in shipping variables such as weather patterns and traffic conditions. "We have built deep learning models [that] recognize these patterns and they get better every single day, and the predictability gets better," Subramaniam said. The company is also exploring the capabilities of generative AI technologies that power chatbots like ChatGPT. These models can improve the delivery experience by asking users questions about their shipment and "predict for you what harmonized code that we need to provide," Subramaniam said. Rival UPS is also tapping into emerging technological tools to strengthen its operations. It adjusted the flow of packages earlier this year via machine learning in response to shrinking demand. CEO Carol Tomé said in August that UPS' network planning tools are now able to "do in an afternoon what used to take a team of engineers months to do."
Earlier this year, Amazon began testing a grocery delivery service for people who don't subscribe to its Prime loyalty program. Now the company is rolling out the service to the rest of the US as it prepares to open more supermarkets next year. The expansion is part of a grocery reboot. Shoppers will be eligible for the offering anywhere the company operates its Amazon Fresh service. Non-Prime members will be charged $4.95 to $13.95 for delivery, while members now pay $6.95 to $9.95, with free deliveries over $100. In addition to Whole Foods, the company operates convenience stores, pocket markets and Amazon Fresh supermarkets that the company began opening during the pandemic. The company plans to resume opening new Fresh stores in 2024, after a pause of more than a year.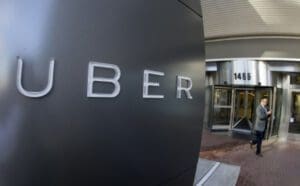 Rideshare and last-mile delivery company Uber reported a year-over-year third quarter revenue increase of 11 percent to $9.3 billion and announced a number of new tech innovations for its grocery delivery service at its quarterly earnings call Tuesday. Beginning in 2024, Uber will begin accepting SNAP (Supplemental Nutrition Assistance Program) benefits as payment, as well as FSA (Flexible Spending Account), Managed Medicaid and Medicare Advantage benefits. The announcement on FSA benefits comes one day after rival Instacart announced that it will begin accepting FSA, HSA (Health Savings Account), Medicaid and Medicare Advantage benefits as payment beginning on December 4. Uber has also launched an AI-powered assistant to help customers find grocery sales, develop meal plans and quickly order ingredients on a budget, the company said.
The U.S. trade deficit climbed almost 5 percent in September to $61.5 billion, but it remained near a three-year low and was on track to post the smallest increase since 2020. Smaller deficits add to gross domestic product, the official scorecard for the U.S. economy. GDP grew at a rapid 4.9 percent pace in the third quarter. Imports rose 2.7 percent to $322.7 billion in September, which is the highest level since February and partly reflects U.S. companies stocking up ahead of the holiday shopping season. Imports of cell phones and other consumer goods increased sharply. Exports moved up a smaller 2.2 percent last month to $261.1 billion, just a hair below an all-time high. Weak economic growth in much of the world has curbed demand for many American-made goods, but U.S. shipments of autos, passenger planes and Covid-related medicines have helped to keep exports high.
Mariah Carey has famously sung "All I want for Christmas is you." Well, all retail stores want for Christmas is the right amount of stuff. Retailers' holiday inventory planning has been fraught with unpleasant supply-chain surprises for two straight years. This year, though, retailers have a fantastic gift coming: things are back to normal. Inventory discipline is showing up in cargo numbers. From January through August, there was about 20 percent less import cargo volume at major container ports than the same period last year, according to the National Retail Federation and Hackett Associates. For the full year, NRF and Hackett are expecting import cargo volume to have declined 13 percent versus last year. Retailers that had big inventory glut problems have worked through the worst of them, and this year's holiday season is looking better.
The Biden administration announced that it is investing more than $653 million to fund port projects with the goal of improving U.S. supply chain reliability. The projects through the Department of Transportation's Maritime Administration will focus on 41 ports nationwide, including at the ports in Long Beach, Calif.; Milwaukee; and Newark, N.J. The funding comes from the bipartisan infrastructure law, which included nearly $17 billion overall in funding for ports and waterways. "These investments will help expand capacity and speed up the movement of goods through our ports, contributing to cleaner air and more good-paying jobs as we go," Transportation Secretary Pete Buttigieg said in a statement.
New research from Moody's Investors Service finds that the use of carbon offsets in corporate carbon transition strategies can pose financial and reputational risks if they are not applied as part of a credible, science-based approach. A carbon offset is a reduction, avoidance or removal of CO2 or other greenhouse gas emissions made with the intention of compensating for emissions elsewhere. These projects include initiatives like landfill gas capture, forest restoration, or mass tree planting. While many companies depend solely on offsets to reduce their emissions, to have a real effect on climate change, companies must also apply solutions across their supply chain to reduce their production of carbon emissions, the report noted. Not only that, but the report found that improperly using carbon offsets opens your supply chain up to a range of credit risks such as reputational, regulatory, and litigation risks or the risk of technological disruption. Inadequate use of offsets can include:
Ambiguous or exaggerated decarbonization claims
Inadequate vetting of carbon credits
Excessive reliance on offsets as a transition risk management strategy
Logistics real estate remains tight in most markets around the U.S., and companies could see "significant rental rate increases" when they renew leases in coming months, according to a report from Prologis. The national vacancy rate remains "very low," stuck at 4.8% in comparison to a historical expansionary average of 6.1%, the company said. That condition continued even as the pace of new building deliveries quickened over 2023. Because of the lack of available space, significant rental rate increases upon lease expiration will remain the norm, even as market rent growth normalizes from its blistering pace of 2021/2022. For example, U.S. rent growth totaled 85% from 2019 to the third quarter of 2023.
That's all for this week. Enjoy the weekend and the song of the week, Dolly Parton's Olive Branch.