"Stand your butt up!" These aren't the words we are used to hearing at a Senate hearing, but that's exactly what we heard earlier this week. Oklahoma Sen. Markwayne Mullin (R), who happens to be a former mixed martial arts fighter, nearly came to blows with the president of the Teamsters at a Senate hearing Tuesday, forcing Chair Bernie Sanders (I-Vt.) to step in to stop a brawl from breaking out in the Senate Health, Education, Labor and Pensions Committee room. Mullin challenged International Brotherhood of Teamsters General President Sean O'Brien to a fight on the spot after the senator read aloud O'Brien's tweets calling him out as a "clown" and a "fraud," and offering to settle things "any time, any place." Mullin suggested that this was both "a time and a place" and threw down the challenge. The two men then hurled insults at each other for nearly six minutes while Sanders attempted to regain control of the hearing. And now on to this week's logistics news.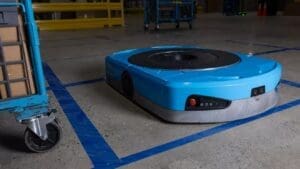 Amazon is deploying a new robot to take on the extra-heavy lifting in its fulfillment centers. The new technology called Titan is a mobile robot, which means it will help carry products across our fulfillment centers, supporting safety and efficiency in our operations. Titan builds off over a decade of innovations in mobile robotics at Amazon, and can lift up to two times more weight than Hercules, the most broadly deployed robot within our operations. With all that strength, Titan's first task will be to carry larger, bulkier items like small household appliances or pallets of pet food and gardening equipment. Amazon's SAT1 fulfillment center in San Antonio, Texas is the first to deploy Titan in its operations. The facility launched in 2013 to process larger, bulkier items and the use of this new technology will help modernize the site, supporting both workplace safety and efficiency.
As the holiday shopping season approaches, major U.S. retailers could be saddled with too much stock for a second straight year, according to a Reuters analysis, jeopardizing retailers' profit margins and generating steep discounts for shoppers. LSEG Workspace, a financial news and data platform, calculated inventory turnover ratios of 30 major U.S. retailers for Reuters. To determine which chains are most vulnerable to carrying excess stock – a problem that raises retailers' costs – LSEG divided each retailer's cost of goods sold by the average value of its inventory in the second quarter. Stuffed stockrooms are especially challenging for retailers this year because American shoppers are expected to spend just 3% to 4% more this season, roughly on par with inflation. That would represents the slowest pace of growth in five years, according to industry estimates.
Workers belonging to the United Auto Workers (UAW) at General Motors' Spring Hill plant in Tennessee voted against a proposed contract, even as the union's president said in Washington on Tuesday that the deal remains on track for approval. Each facility's union local must vote on the tentative deal, but only the overall combined vote count determines the outcome. Of the total votes cast at Spring Hill, 68% were against the agreement. UAW President Shawn Fain told reporters on Capitol Hill that early voting was trending positive. "Early results are very favorable," he said. The UAW GM vote tracking site currently shows the contract leading by a 52% to 48% margin with about 16,000 votes cast out of about 46,000 UAW-represented GM workers.
Walgreens Boots Alliance is betting its 8,700 bricks-and-mortar stores, and not a network of fulfillment centers, hold the key to speeding up delivery of online consumer orders and increasing sales. The pharmacy recently closed a warehouse in Edwardsville, Ill., dedicated to filling e-commerce orders for household items such as toothpaste and nail polish, signaling that it is going all-in on the idea that its stores will do double duty as both retail outlets and hubs for home deliveries. Walgreens will have its store employees pick and pack items for same-day delivery through third-party apps such as DoorDash and Uber Technologies' Eats division. The strategy, which doesn't include the company's pharmacy operations, is meant to make handling of online orders more efficient by having a single system for handling goods rather than managing separate distribution networks for e-commerce and in-store sales. Walgreens says 78% of Americans live within 5 miles of one of its stores.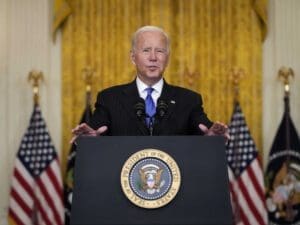 President Joe Biden and an influential bloc of lawmakers from both parties want more U.S. military hardware to be made in America. But the defense industry — the beneficiary of the movement — says now is the wrong time. Supply chain problems, towering global demands for weapons and the need to work with allies to get it all done means that the America First movement should wait. The "Buy American" campaign, fueled by the promise of a domestic manufacturing boom and well-paying jobs right here at home, is gaining steam in Congress. Both versions of the can't-fail National Defense Authorization Act contain provisions that require a certain percentage of American weapons be made domestically. Yet the politics is crashing into the reality facing the defense industry. Already wobbling from the demands of arming Taiwan and Ukraine, American weapons makers have the added task of producing for Israel — while also rearming the U.S. after its shelves were raided to help other countries.
Renewable energy firms are mostly suffering a dire earnings season as struggling supply chains, manufacturing faults and rising production costs eat into profits. With the world trying to transition at pace toward cleaner energy, equipment manufacturers are struggling to keep up with soaring global demand, leading to rising production costs and questions over the economic sustainability of large-scale projects from the industry's major players. Specialist wind energy firms are also often finding themselves outbid for seabed licenses by traditional oil and gas players. Should they win a contract, electricity prices are often too low to justify the manufacturing costs, leaving companies looking to their governments in Europe and the U.S. to deliver greater subsidies and restore balance to the market. As a result, most wind energy stocks are down sharply since the turn of the year.
Deputy Assistant Secretary for Textiles & Apparel at the US Department of Commerce, Jennifer Knight, reveals the "co-production" fashion supply chain is the new focus for the US with the CAFTA-DR region being well positioned to grow its fashion sourcing market share. The US is doing a "reset" on how it does trade policies with a focus on supply chain resilience Knight tells a live audience during her US Textiles and Apparel Industry Update at the World Fashion Convention in Philadelphia. Knight reminded the audience that supply chain resiliency is a buzzword for not just the US but the world and in US commerce there's a big effort towards achieving it so "we've become the de facto supply chain analysis group". She explained that the newly launched supply chain group will work with industry deep divers, so it will have ongoing analysis that's data-driven and will aim to identify choke points ahead of time.
That's all for this week. Enjoy the weekend and the song of the week, Fight Test by the Flaming Lips.