The economics studies in which I have engaged over the years have always highlighted the ways in which economic activity (production, supply chain, services) impacts financial factors such as stock markets and currency values. However, this week's global news headlines have reinforced to me that cause and effect can be bi-directional, as these financial factors can exert very real effects on the economy, and ultimately supply chain and logistics, as well.
The Greek-Euro drama was temporarily reconciled this week – but not before we learned that the county's capital controls and other efforts to stem financial chaos have further debilitated the country's solvency. In China, the Shanghai Composite Index fell 25 percent in the last month, leading some to concern over the country's economic outlook, even though the drop appears to be essentially unrelated.  And finally, the international accord with Iran (the Joint Comprehensive Plan of Action) outlines the lifting of UN sanctions, opening opportunity for international trade that many organizations and countries are already evaluating.
Now for this week's logistics news:
The international accord between Iran and six other nations reached this week sets the stage for the removal of international trade sanctions on Iran that have been in place for over a decade. The impact from the reduction in Iran's oil exports is the most notable consequence. However, an Iranian publication states that between 2010 and 2012 European countries lost substantial export opportunities to Iran. These amounts include €66 billion for Germany, €39 for Italy, and €31 for France. Prior to the sanctions, French automotive companies Renault and Peugeot were well established in Iran. It is possible that these firms may look to reestablish their prior presence. At the same time, German news outlet DW predicts that trade between Germany and Iran will more than double by 2016, with a large increase in the sale of German capital goods.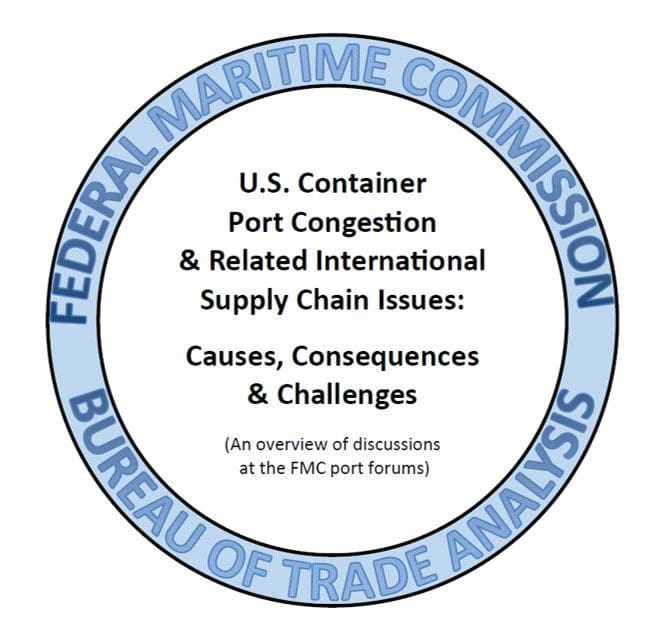 The US Federal Maritime Commission released a report on Tuesday discussing the causes, consequences, and challenges of US container port congestion. Container yard facilities are facing challenges dealing with the increased volume being discharged from the progressively larger ships being deployed by ocean carriers.  Also of concern is the lack of labor flexibility of terminal operators to scale to meet these increased demands. The issue of truck chassis, ocean carrier divestiture of these chassis, and the current supply constraint was also addressed. In particular, issues surrounding chassis responsibility and driver delays was discussed.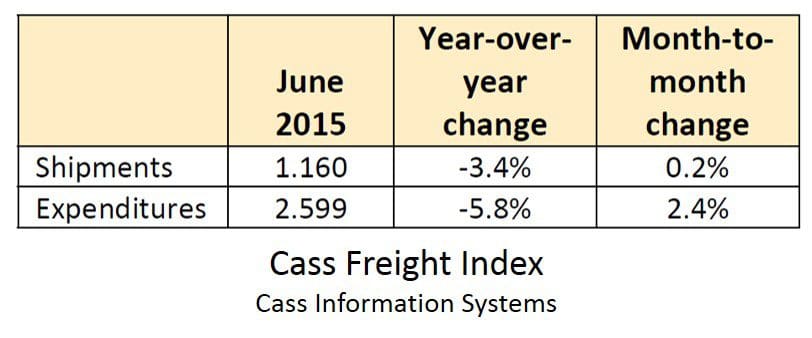 The Cass Freight Index for June showed a 3.4 percent decrease in shipments from the same period last year, but a 0.2 percent increase over May 2015. Expenditures followed a similar trend to shipments. The strength of the US dollar and its negative impact on US production and exports is cited as a factor limiting shipments. However, a strong dollar should theoretically increase US imports, but an impact from this trade factor was not cited in the report.
FTR's Trucking Conditions Index dropped to a three year low in May due to softer capacity issues, pricing, and fuel costs. Recent slack in capacity is partially attributed to the suspension of Hours of Service changes. Jonathan Starks, FTR's Director of Transportation Analysis, stated:
While the market has notably softened, conditions for fleets are still quite positive and indicate how well they are able to manage the current headwinds….While the capacity situation has definitely eased since last year, it is still well above historical levels and should keep contract rates, at minimum, stable with a potential to grow stronger by early 2016.
A Zodiac Aerospace plant in Washington State experienced a powerful explosion on Tuesday. The manufacturer of aircraft interior paneling has buffer inventory to meet short-term demand, but the impact on Zodiac's longer-term order fulfillment capacity is still unclear. This factory is an upstream supplier to other Zodiac factories, and has the potential to cause a ripple effect down the supply chain. The article notes that Zodiac encountered previous supply chain delays that impacted Boeing, Airbus, Bombardier, and Embraer. Unfortunately sourcing the intermediate goods from other suppliers is hindered by the proprietary nature of the processes and potential aviation certification requirements.
Have a great weekend! This week's video is of Knapp's Open Shuttle, a free-moving robot used in warehouses. Cool stuff!