Amazon.com undoubtedly reaped first mover advantages in e-commerce. Amazon continues to steal market share from traditional retailers year after year. Many in the logistics and financial industries have noted with wonder that Amazon is not expected to be profitable. Financial analysts seem to reward them as a first mover that has created the kind of scale and network and technology platform that will create huge profits whenever Amazon decides to scale back the aggressive pace at which they make capital investments.
In recent years we have seen Amazon make giant investments in logistics assets. Are those investments aimed at making their traditional business more "profitable" or are they designed to turn Amazon into a leading logistics company? According to Jeff Bezos, who spoke at a technology conference last week, Amazon isn't aiming to take over the last mile of delivery from UPS, FedEx, or the U.S. Postal Service. The goal is to "supplement it heavily," to support peak season fulfillment.
Should teke Mr. Bezos at his word? If we didn't know this already, one thing we've learned this election cycle is that CEOs (or politicians for that matter) don't always speak the truth.
Does Amazon intend to compete as a last mile carrier?
Amazon launched an air cargo network from an air hub in Wilmington, Ohio that used to be the hub for DHL parcel before DHL exited the U.S. market.
It became public in December that Amazon had purchased thousands of 53 foot trailers.
The company is leasing 20 Boeing 767s at a cost of about $300,000 per month.
The sortation centers and the domestic transportation assets can help Amazon reduce its shipping losses, which are huge. Amazon reported $11 billion in shipping costs, but only garnered 6 and a half billion dollars in shipping fees from customers. In terms of their shipping costs, analysts from Cowen & Company estimate half of those costs are paid to UPS and FedEx. Amazon is creating its own hub and spoke parcel network to defer those costs.
When UPS and FedEx are used, their rules require a customer signature before packages can be delivered. This results in large numbers of failed deliveries, which are hugely expensive. Further, UPS and FedEx sortation centers tend to be located further outside of metro areas than the new Amazon fulfillment centers, which also increases costs.
Amazon's investments in sortation centers, a hub and spoke plane network, and the enablement of long haul shipments between consolidation centers creates a miniature parcel network for the giant retailer. But this parcel network is nowhere close to the scale necessary to compete with FedEx or UPS. Finally, in the 2013 holiday season there were widespread reports of delivery failures. Beginning to build their own parcel network puts more control in Amazon's own hands.
This should also make investors happy. Cowen & Company believes it would cost at least $20 billion to compete with a FedEx or UPS in last mile.
OK, so we should probably take Bezos at his word that he does not intend to compete in the last mile game. But what about as a 3PL providing warehousing and fulfillment services? Let's review Amazon's warehousing investments:
In 2009 Amazon had about 30 global fulfillment centers, they built over 100 more by the end of 2015. The company now has 125 million square feet of global warehousing.
Amazon has made huge investments in automation. The company spent $775 million to acquire Kiva Robots in 2012, now called Amazon Robotics. Amazon then sucked up all the production internally; Amazon has 30,000 of these robots in their fulfillment centers. They also have more traditional stationary robots for loading cases onto conveyors. And miles of conveyors in each fulfillment center.
While 90 percent of warehousing space is in their fulfillment centers, about 10 percent is in sortation centers and small metropolitan warehouses. There was one sortation center in 2013, by the end of the year there will be 23 accounting for 8 million square feet. Sortation centers don't store inventory. Rather goods come in, are sorted by zip code, and then go out the same day. Similarly, Amazon had 7 small format warehouse in North America in 2013. Today there are 58.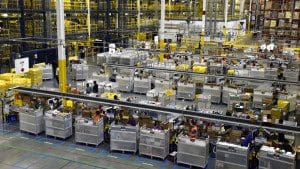 Amazon has invested in Warehouse Automation
Is Amazon looking to compete with leading 3PLs? Well in a sense they already are. The company offers a service called Fulfillment by Amazon. However, this segment is small enough that it fits in the "Other" category in their financial reports. That makes the revenues of Fulfillment by Amazon $1 billion at most (and probably significantly smaller than that) last year out of total revenues of over $107 billion.
It is probable that the warehouse investments have little to do with a push into logistics and everything to do with growth. The rule of thumb is that ecommerce warehouses require three times more square feet to do the same volume of shipments as a traditional warehouses, so it's not surprising that most of Amazon's giant fulfillment centers are larger than a million square feet. Further, according to John Blackledge, an investment analyst at Cowen & Company, it takes three years for an Amazon warehouse to reach peak output.
Let's take a quick look at their growth. From 2009 to 2015 they grew from $13 billion to $107 billion, a factor of 13. But the number of large warehouses increased only by a factor of four. It appears the large investment in Kiva has paid off. The increased productivity of their mega warehouses is amazing.
The large warehouse investments were needed largely to support growth, but partially to support improved service levels. In contrast, investments in smaller warehouses – Prime Now Warehouses – are all about improved service.  These warehouses are being used to support quicker deliveries to Amazon customers. Prime Now is a service for Amazon Prime members that allows for one hour deliveries of daily essentials using a mobile app in select metro regions. Such quick deliveries would not be possible without inner city warehousing.
Finally, Amazon is dipping its toes into international freight brokerage. But without going into too much analysis, this also from our point of view is aimed at reducing costs of bringing goods over from Asia that they intend to sell on their web site, not at making them a competitor to the freight forwarding industry.
In conclusion, while Amazons investments in logistics assets have stoked fears among 3PLs and carriers that they may be seeking to compete with them, this seems unlikely. That does not mean Amazon is not affecting the logistics industry. There are certainly reports that Amazon is driving up wages for warehouse workers in the markets where they build warehouses; and bringing parcel shipping in-house will effect last mile carriers' revenues to a certain degree (but less than you might think). But for now it is really brick and mortar retailers who continue to have the most to fear from Amazon's ongoing logistics investments.