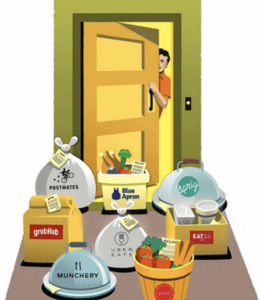 A few months ago, I wrote an article about using crowdsourced deliveries for last mile success. In the article, I touched upon a few key points regarding crowdsourced deliveries. First was the rapidly expanding market for crowdsourced deliveries. Major retailers such as Target, BestBuy, Macy's, Staples, and Walgreens, to name a few, are currently offering crowdsourced deliveries to their customers. But the market has moved beyond traditional retailers, as restaurants that typically have not offered delivery, are turning to the delivery model. The second thing I touched upon was the amount of money pouring into the market as more and more companies try to gain marketshare. The top seven global startups, which include Deliveroo, Instacart, New Dada, Postmates, DoorDash, Fetchr, and Deliv, have raised over $2.5 billion in funding since 2011. And these are just the big-name players – there are more and more start-ups setting up shop on a daily basis to compete in what is rapidly becoming a crowded market.
The end game is to compete with Amazon's fulfillment services, which rely on speed rather than profitability. Target is a great example of a company diving in to the crowdsourced delivery market for this reason. The company recently purchased Shipt, a crowdsourced delivery platform, for $550 million. Shipt will become a wholly-owned Target subsidiary, but will still solicit business from other retailers.
DHL is another example of a company jumping into the market to compete with Amazon. My colleague Clint Reiser recently wrote an article about the launch of DHL Parcel Metro. The service matches retailer delivery requirements with a virtual delivery network that leverages local and regional delivery vendors along with crowd-sourced vehicles. The Parcel Metro software solution manages delivery vendors and drivers according to characteristics such as service level, capacity, and route. Consumers can select their desired delivery window including next day, same day, and (coming soon) two-hours. Online shipment tracking is available to consumers.
Challenges for Crowdsourced Deliveries
Based on the information mentioned above, and the fact that according to my latest omni-channel research, nearly 10 percent of retailers surveyed indicated they are already use the crowdsourced delivery model, and an additional 26 percent plan to use one in the next 12 months, launching a crowdsourced delivery model seems like it should be a no brainer. However, there is certainly another side to the coin. While there are plenty of opportunities out there, challenges abound as well.
First and foremost, the crowdsourced delivery market is incredibly crowded. It can be very difficult to gain enough traction to stay afloat. Even those companies that seem to have the necessary presence find that the journey is difficult. Take Sidecar for example. Sidecar was the first transportation network company, launched in 2011, and also offered business-to-business delivery service. By 2015, after striking a partnership with YelpEat24, the majority of its business was crowdsourced deliveries. However, the company shut down at the end of 2015. But they are certainly not the only big name to shut down. In fact, in just the last couple of weeks, both Shyp and UberRUSH have ceased operations as well.
Another challenge for crowdsourced deliveries is the need for route density. This means that there are short miles between stops. One to two-hour deliveries destroy the ability of a carrier to consolidate a route.  If companies back off to one-day deliveries, there is at least some prospect at getting to delivery density. But consumers don't want one day deliveries, they expect same-day. Retailers can use traditional couriers for next-day service, which strikes a blow to the need for crowdsourced options.
Another major challenge for crowdsourced deliveries is the need for privacy and safety. From a privacy standpoint, a lot of consumers are not keen on retailers sharing their home addresses and shopping habits with strangers; but this is a necessary evil of the crowdsourced model. From a safety standpoint, consumers want to make sure that prospective drivers have been properly screened. All it takes is one well-publicized incident to scare people away from the model – think of the damage from the Uber sexual assault incidents. In line with that way of thinking is what happens to damaged or missing items? There is the potential for retailers to see a spike in sunk costs for damaged goods that need to be returned.
While the challenges exist, the market appears to be ready for crowdsourced deliveries. As more retailers jump on board, it continues to become the norm. With investment dollars flooding in, it remains to be seen what companies will be standing at the end of the day. The marketplace is crowded and scalability will continue to be an issue, but the future appears to be bright for crowdsourced deliveries.