ProMat 2023 is being held this week, March 202 -23 in Chicago. I spent the full day yesterday roaming the floor and meeting with exhibitors. For those of you that were unable to attend, this article will provide a thorough second-hand experience of a day at this expansive exhibit. ProMat 2023 occupied both McCormick Place South and McCormick Place North with over 1,000 exhibitors. Automate was not co-located with ProMat as it has been in years past.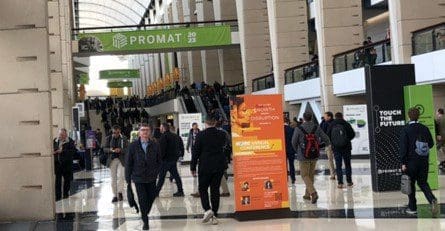 McCormick Place North
Entering the grand concourse and riding the escalator up one floor, we will take a left hand turn into the North Hall, home to the North Manufacturing and Assembly Solution Center and the Robotics and Automation Solution Center of ProMat 2023. First stop, Pickle Robot.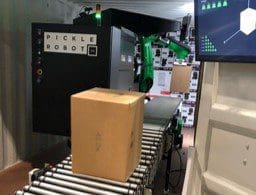 Pickle Robot, a Boston-based privately-held robotics company demonstrated its mobile trailer and container unloading robot. A worker stages the robot in front of container doors, and it autonomously moves forward into the container under its own power and direction as it picks boxes, up to 60 lbs from the face and more weight if picked from the top, and places them onto attached conveyor that transports the loads out of the container. A couple interesting points on the complexity of the trailer unloading use case are that the robot must be mobile and able to move in and out of trailers and the robotic arm must navigate its movement within the dimensional constraints of a trailer. Performance expectations are for a 40 foot container to be unloaded in under 2.5 hours. ProMat is the first public exhibition of this product, although it is currently live at a customer site in California for the unloading containers filled with dry goods.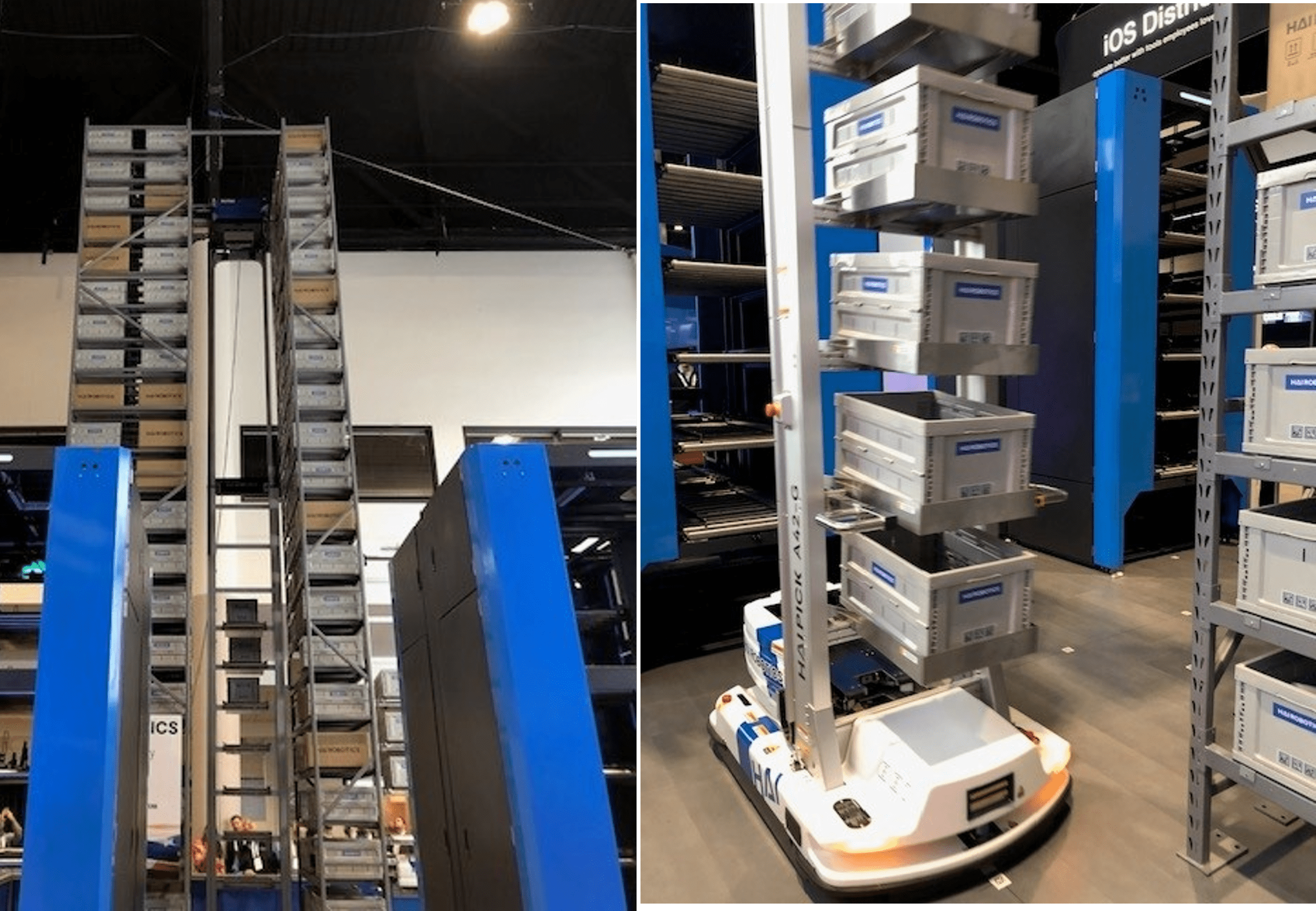 HAI Robotics, with its US headquarters in Fremont, Callfornia, is a finalist for Best Innovation of an Existing Product. And the product is a 32 foot high autonomous case handling robot (ACR) that is easy to see across the exhibition floor. The A42TD (T for telescope and D for double deep) loads and unloads totes and boxes from high-bay racking. At the same time, the A42 multi-layer ACR extracts 6 containers at the same time (one on each level) from the high port system. A typical HAI robotics project includes 8 – 80 robots. The HAI autonomous case handling robots clearly show a value proposition of flexible automation providing throughput for high storage density facilities and operations.
Addverb Technologies recently entered my radar. The company is headquartered in India, has more than 800 employees globally, and received a $154 million investment from majority owner Reliance Industries. Addverb is a vertically integrated company, manufacturing its own robots, flexible and fixed automation systems, and much of the components, while also developing its own software and providing implementation services. The company was founded 7 years ago but more recently opened its US headquarters in Irvine, CA and R&D office in the Bay Area. Addverb was exhibiting multiple technologies at ProMat including Veloce, the company's multi-level shuttle system, Sortie, an autonomous put-wall sorting system, and Zippy, and AGV sortation system. I found Zippy to be a practical, flexible automation system that could be of value to many parcel operations. Zippy has been deployed at more than 10 sites with an average of 75 AGVs per site.
Let's swing over to the South Hall.
McCormick Place South
The South Hall is home to the IT Solutions Center and the South Manufacturing and Assembly Solutions Center of ProMat 2023. First stop, Manhattan.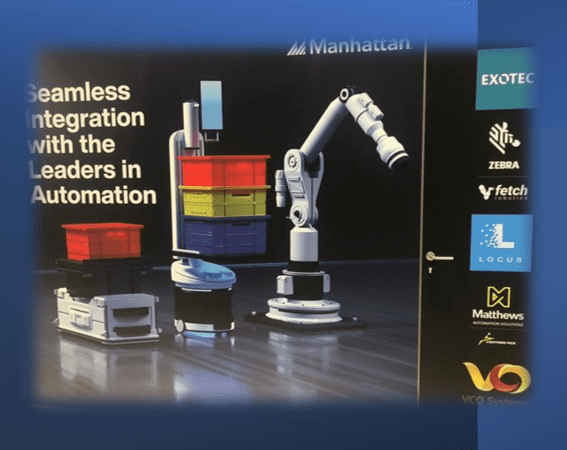 Manhattan Associates was exhibiting its portfolio of digital supply chain solutions. Since ProMat is focused on automation, I thought it would be sensible to focus my discussions on Manhattan's warehouse execution system (WES) that is complementary to the Manhattan Automation Network – a number of strategic integration partnerships that the company has developed with select warehouse automation providers. I asked Manhattan about recent examples of customers utilizing the company's WES functionality. I was informed of a recent customer case – an apparel retailer located in Denmark. This retailer is utilizing two heterogeneous automation systems in its facility – an Exotec system and a conveyor and sortation automation system. The Manhattan WMS/WES is responsible for messaging with both of these systems and coordinating activities across processing areas. For example, The WES wll release an order to Exotec, Exotec will retrieve the appropriate bin, and transport it to an induction point on the conveyor system, the conveyor system will have received the messaging from the WES, enabling it to identify the item when scanned, and route it according to proper destination. The system will also utilize messaging from the WES to route the order item to the print and apply process for final destination and simultaneously route the bin back to the Exotec system for storage. Although this process could be handled by a customized system, the ability to utilize the Manhattan WES reduced project complexity and streamlined the process.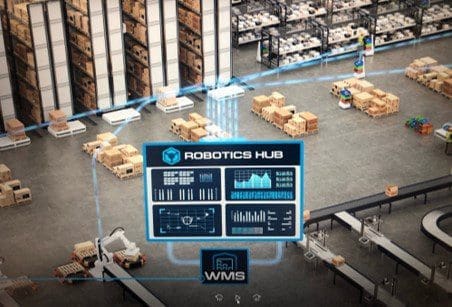 Blue Yonder was exhibiting its suite of supply chain software solutions, but my focus again was on solutions that support warehouse productivity. My discussion focused on Blue Yonder's Robotics Hub that together with Warehouse Tasking, constitute the company's warehouse execution offering. DHL is currently the flagship user of Robotics Hub and Warehouse Tasking. DHL is currently utilizing the solution for integration of multiple vendors of robotics and collaborative robotics. The integration of disparate robotics systems along with warehouse tasking is allowing DHL to resynchronize how warehouse resources are deployed. Blue Yonder also discussed its next-generation, IoT enabled yard management system. The system, expected to reach general availability within the next six months, utilizes Panasonic camera technology that can read markings on containers and the license plates on trucks. These capabilities support the automated monitoring of yard movements, providing increased visibility that enables greater yard efficiencies.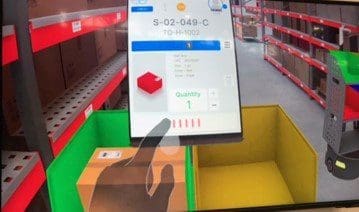 Körber Supply Chain was exhibiting its range of solutions. But I attended the company's annual user conference last week, so I decided to immerse myself into the picking process at the company's virtual reality booth that featured picking-to-robot processes. I decided to (virtually) pick boxes from a shelf onto a Locus robot. This was my first virtual reality experience, and I must admit that I did get immersed in the process. So much so that I started to walk forward after I completed the first pick. There was an empty aisle in front of me in my virtual experience, but a solid wall in the real world. So, I looked a little foolish to anyone watching. Oh well.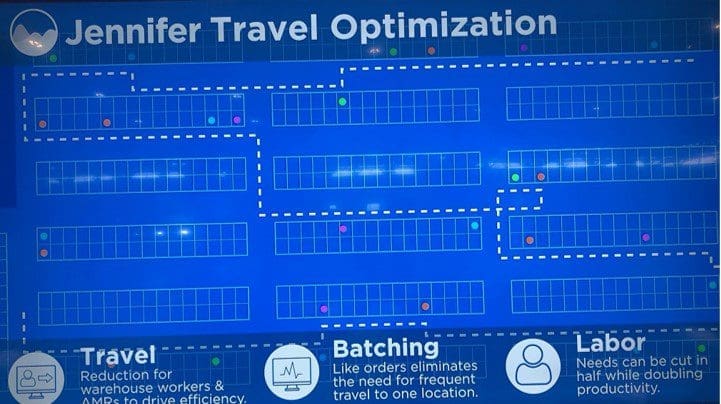 Lucas Systems is a finalist in the Most Innovative IT Product category. The company's Dynamic Work Optimization solution utilizes machine learning algorithms to optimize warehouse performance. The solution creates optimized batches of work for assignment to associates, develops optimal pick paths, and dynamically prioritizes warehouse tasks. The solution creates optimized batches of work based on criteria such as product dimensions, locations, pick path start and end points, and more. Pick path optimization considers multiple factors including one-way aisles to determine the most efficient travel path. And work assignments can be dynamically prioritized by adjusting configurable rules such as ship date or order types.
Swisslog was exhibiting numerous technologies but I was most interested in the company's mixed case palletizer designed to create pallets organized for store friendly replenishment. I was aware of the German Logistics Award presented to dm-drogerie markt for its use of the solution in its Brandenburg facility. The solution, branded ACPaQ utilizes Kuka robotics and Swisslog technologies including the palletizing intelligence and supporting automation such as the Cyclone Carrier. The ACPaQ solution is now being introduced to North America.