The Bullwhip Effect is a 50 year old problem first described by Jay Forrester at MIT in 1958.  Forrester demonstrated it could take up to 6 months for a 10 percent increase in store demand to cascade across the extended retail supply chain and it could result in as much as a 40 percent increase in demand on the factory.  
Fast forward to today. Suffice it to say that industry initiatives such as Quick Response, Vendor Managed Inventories, Efficient Consumer Response and Collaborative Planning, Forecasting & Replenishment have all had positive impacts on inventories and service levels. But have we really addressed supply chain responsiveness to the consumer?   
As a result of these initiatives, lag times have been reduced. Today, it is not uncommon to hear of lag times from store to factory in the 3 to 6 weeks range. That is quite an improvement from Forrester's findings of 6 months. In addition, as time impacts inventory, we have seen improvements in inventory turns in the extended retail supply chain.
What about store out-of-stocks (OOS), the most critical KPI in any retail supply chain?   When products are not on the shelf everybody loses. Unfortunately, store OOS in the grocery sector has not budged from the 8 percent range in 15+ years.
Indeed, we have not been standing still in our attempts to resolve store OOS. Trade magazines are filled with stories about capturing store consumer demand and using it to drive the extended retail supply chain. Terms such as Demand Signal Repositories, Demand Driven Supply Networks, Consumer Signal Integration and Consumer Driven Supply Chains are prevalent in the press nowadays. 
However, we have to ask what value is in the daily capture of Point-of-Sale (POS) if the store inventory management system is a manual process where inventory clerks walk the aisles looking for gaps to fill on empty shelves?  Even when retailers use advanced computer assisted ordering systems, they are typically not used to do anything beyond creating the next order.
Unfortunately, in many cases we are managing "HEADLESS" retail supply chains where retail store inventory management systems are not connected to anything. Our retail supply chains are fragmented.  Inventory management systems in retail stores, retail DCs, wholesale DCs and manufacturing DCs are completely disconnected from one another. As a result, upstream and downstream supply chain systems do not really know what will be needed tomorrow, next week or next month.
This is largely due to the fact that traditional inventory planning systems were never designed to handle the vast scale of information needed at the store level. Yet, in reality, everything starts and ends at the store. The store is the beginning of information flow and the end of product delivery. Reducing lag time from store to factory from 6 months to 6 weeks is a good thing. What is more important is to connect the store to the rest of the retail supply chain. To connect the "head" back on to the retail supply chain.
Enter Collaborative Flowcasting with the retail store as "front and center."
Collaborative Flowcasting is a process where every node in the retail supply chain is connected with the store, driving retail and supplier's DCs through a single multi-enterprise system. Consequently, total retail supply chain inventory visibility and requirements are available to trading partners.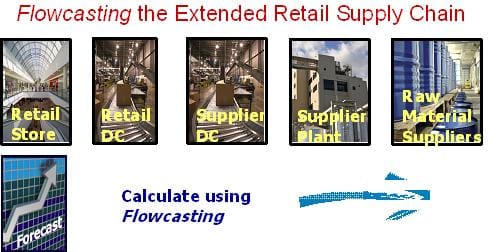 Collaborative flowcasting models expected product flows from factories to supplier's DCs, then on to retail DCs and stores. This modeling is done daily based on what is actually sold at the store (from POS or in-store inventory management systems) and projected one year (or more) into the future.
This modeling takes into account expected business activities/events down to the store level and includes participation from marketing, merchandising, buying, and of course, supply chain. In essence, it delivers actionable information and reflects the way trading partners have agreed to do business.
Collaborative flowcasting is driven by consumer sell-through (the only true demand) as opposed to what is sold into the retail supply chain.
With collaborative flowcasting trading partners can manage the extended retail supply chain to "a single set of numbers."
With collaborative Flowcasting, lag time to action from store to factory is one day or less.  The extended retail supply chain is very dynamic and daily shifts in consumer demand can or will cause a complete resynchronization of expected activities/events from the store to the factory. The end result is a total elimination of the Bullwhip Effect.
The Bottom Line
The key questions that must be asked of any extended retail supply chain are: Can the factory align people, equipment and materials to what consumers are buying in the store over a specified period of time?  And how close is the forecast driving the extended retail supply chain aligned with the factory's master production schedule (MPS) and sales and operations plans (S&OP)?
In the end, these are the extended retail supply chain's most critical questions because nearly 50 percent of the total cost of products sold to consumers comes from the factory. Furthermore, if the factory cannot make what's needed when needed to support the extended retail supply chain, everything else will end up suffering. 
The technological barriers have finally been removed and today retailers and their trading partners deploying collaborative flowcasting can expect improved store in-stocks, resulting in increased sales at no additional costs. They can also expect higher inventory turns and lower operating costs due to the elimination of lag times to action that cause the bullwhip effect. Consequently, retailers and their trading partners can now increase their ability to quickly react to changes in consumer demand and get the head of the supply chain working with all the other parts of the body.
Andre Martin is Co-founder and CEO of the RedPrairie Collaborative Flowcasting Group – a joint venture between RedPrairie Corporation and Retail Pipeline Integration, Inc. With more than 40 years of experience in distribution, manufacturing and finance, André pioneered the very first implementation of Distribution Resource Planning (DRP) at Abbott Labs in 1975. Since then, Andre has 43 successful DRP implementations to his credit.