Mercedes-Benz Vans just announced an equity investment in a drone startup company and that they are going to invest €500 million ($562 million) over the next five years in designing electric, networked vans.  The drones will launch from the rooftops of the van.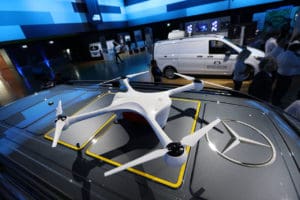 The idea of an integrated van/drone system to support ecommerce deliveries is, in the current regulatory environment, quite foolish. Rick Rys, of ARC, explained why in a recent article, "Europe is still developing drone regulations, making it difficult to start commercial drone operations there.  In the US, …drone use is restricted to visual line of sight.  This means companies like Amazon, who have explored using drones for delivery, cannot use the FAA part 107 rule.  Amazon and others will now find it all but impossible to use drones for fulfillment until drone traffic control is developed and the FAA figures out how to regulate that."
But as I looked at the Daimler press releases, this new van being developed specifically for last mile deliveries has a number of very nice features. Mercedes-Benz is trying to evolve "from a mere van manufacturer into a supplier of holistic system solutions."  What does that mean?
Here are some of the features that will help streamline ecommerce fulfillment:
This is an electric vehicle. This will appeal to carriers who have committed to CO2 reductions. It can also help in European cities that restrict noisy vehicles from going into residential neighborhoods during the evening and early hours of the morning. In other cities, bans on internal combustion engines in inner-city zones are planned.
The van will be integrated to an advanced routing solution and the rear wall of the van's cabin will have an information terminal providing relevant information for the delivery process, such a special instructions on where to place a package or whether signature capture is required.
Daimler envisions that instead of having a driver, or an order picker, putting packages in racks in the truck, an automated material handling system will load packages into racks that the driver then loads into his van. These vehicles will have a miniature delivery management system that understands which parcels are in which rack slots, and which address that package needs to be delivered to. Packages will be automatically dispensed to the driver as he arrives at the address. Even the van door will automatically open once the package is dispensed. The wasted time in searching for parcels in the back of the van is eliminated.
There is no steering wheel, instead the vans are controlled with a joy stick. Why would they do this? To free up room in the cab and make it easier for the delivery driver to get in and out of the van.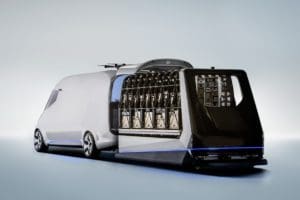 Mercedes-Benz Delivery Van with Automated Racking System
In conclusion, even though the drone part of this, based on current regulations, is silly; this is a good idea nonetheless. The idea of a car maker as a provider of a holistic delivery system that combines the vehicle, material handling hardware and special racking, and enterprise software is a very interesting idea.  That, not drones, is what makes a true step forward in the automotive industry.