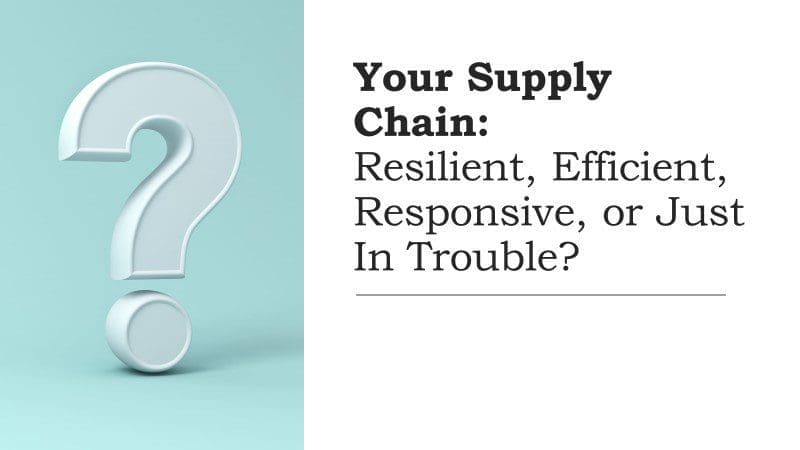 Recent events have elevated supply chain to a top priority for CEOs across the globe. The Conference Board (conference-board.org), a well-known, global business membership organization, conducted its C-SUITE OUTLOOK survey in the fall of 2021. Its survey results showed supply chain disruptions, labor shortages, and rising inflation to be 3 of the 5 high impact external factors on the minds of CEOs. Subsequently, the Board conducted a special C-Suite Outlook midyear survey asking executives "What steps are you taking in response to the war in Ukraine?" The most frequently chosen option for CEOs and "Other C-Suite" respondents was "Focusing on making supply chains more resilient."
ARC Advisory Group/Logistics Viewpoints is conducting a survey to determine the perceptions, priorities, and strategic initiatives of today's supply chain and logistics executives. We are obtaining deeper insights into the external pressures on supply chains, the priorities of operations, and the actions being taken. The survey seeks to answer the following questions and more:
Are companies as focused today on supply chain resilience as they were a year ago?
What supply chain resilience tactics will be utilized over the next year?
What tactics will be utilized to make warehouses more resilient?
Are accuracy and facility throughput still the primary goals of day-to-day operations?
What are the primary external threats keeping logistics managers up at night?
We encourage qualified practitioners to take the survey, and we will provide those participants with a summary of our findings as a sign of our appreciation (please find survey link at end of this article).
Survey Structure
More specifically, the survey is structured to determine the relative importance of competing objectives, how the importance has changed over time and why; the degree to which certain external factors (resource shortages, cost inflation, etc.) are expected to exert a negative impact in 2023; expectations about inbound and outbound logistics performance in 2023; and the likelihood of practitioners engaging in certain broad supply chain resilience tactics (supplier contact modifications, relocating inventory, supplier diversification, etc.) and warehouse and fulfillment resilience approaches.
Let's Learn Together – Operating Context for 2023
Your input to the survey will contribute to a comprehensive and timely snapshot of today's supply chain operations, the initiatives being supported by the C-Suite, and the perspectives driving decisions at the ground level. We hope you choose to contribute, and we look forward to provide you with our aggregate findings.
Survey on Supply Chain Priorities: Resilience, Efficiency, Responsiveness
If you have any questions, please contact me at creiser@arcweb.com.