At the beginning of every year, I give my recommendations in Logistics Viewpoints about the top supply chain shows to attend.  Next year, SAP Leonardo Live will be on my list.  They had their inaugural show in Frankfurt, Germany on the 11th and 12th of July.  This is one of the most interesting shows I've been to in years.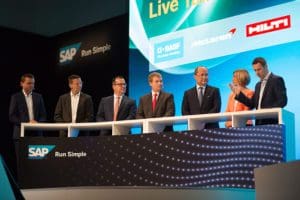 SAP has three shows: SAP Sapphire – which is their CIO and IT management show; SAPInsider – for line of business leaders, including supply chain leaders; and now SAP Leonardo Live – which is focused on implementing cutting edge technologies that are just now coming of age.  Those technologies include IoT, Big Data, Artificial Intelligence, Additive Manufacturing, and Blockchain.  When SAP uses the term "Digital Transformation," they are talking about using these technologies.  SAP Leonardo is the platform they have built to support and enable these technologies.
What I found most interesting at this show were user case studies where these new technologies were being used to transform a company's business model or supply chain. The most interesting presentations I saw in this area were from Stara, Mojio, ARI, and Prolagos.
Stara is a Brazilian manufacturer of agricultural equipment. They have been on a journey to enable Precision Farming using Telematics, Cloud, and predictive analytics. What they have accomplished is more impressive than larger and better known competitors in the industry.  Stara worked with SAP Labs to hooks the farm equipment sensors up with the SAP Cloud Platform and SAP ERP Central Component to monitor vital farming processes in real time. The Stara telemetry platform allows farmers to achieve better yields while using less fertilizer and fewer seeds. The company is also working to build out the platform to improve farm to fork logistics.
The CEO of a fast-growing Silicon Valley startup called Mojio stated that there are 1.2 billion cars on the road, and 80 percent of them are not connected. Mojio is a platform for connected vehicles. A customer inserts a Mojio telematics device into an OBD port in the car, and for ten dollars a month their car becomes a high speed WIFI hub that provides the driver's smart phone with access to data on driver performance – speeding, hard stops, etc.; diagnostic data on the health of the vehicle; and information such as whether your vehicle has a safety recall pending, when it is due for service, and locations where the car can be serviced. Mojio is integrated to the SAP Vehicle Network, a B2B marketplace for connected car apps and services.
ARI, a leading global fleet services provider headquartered outside of Philadelphia, uses a combination of the telematics fault codes from trucks and call centers staffed by repair professionals with detailed knowledge of maintenance fault codes, to schedule and negotiate maintenance with dealerships and repair shops. ARI saves their customers money by being able to negotiate better deals with the dealerships than the great majority of companies would be able to negotiate on their own behalf. Analyzing telematics data is a Big Data problem. ARI uses SAP HANA as their Big Data analytics solution.
Prolagos, a company of the Aegea Sanitation group, is prototyping IoT, Big Data, machine learning, and predictive analytics on the SAP Leonardo Platform. The water purification company seeks to improve the quality of the water supply in Armação dos Búzios, a city in Brazil. These technologies are used to analyze real-time network performance in areas such as flow, pressure, power consumption and the reservoir level. Búzios is a popular resort town, and the demand for their water treatment and sewage services can increase as much as four time on a sunny day on a weekend.  To more accurately forecast demand, Prolagos is doing something very innovative. They count the number of vehicles driving into the community.  Demand analysis also relies on a forecast of weather conditions and historical tourism data.
Most of the shows I attend have users speaking about how they use established solutions to reduce supply chain costs or improve service. End users speaking about how they are using evolving technologies to transform their business are rare.  The number of stories focused on transformation at Leonardo Live was impressive.