Infor's Inforum 2016 event was last week. Infor is the third largest provider of enterprise software solutions. Because I'm a supply chain analyst, I was most interested in what the executive leadership would say about the GT Nexus acquisition; GT Nexus was acquired for $675 million last August.
GT Nexus – whose products are now called the Infor Commerce Cloud – is a public cloud supply chain platform used by very large companies like Nike and Caterpillar and their supply chain partners. The solution includes:
The procurement of strategic materials – in particular, the check off process where a buyer says I need 7 pallets of this item on this date, and the seller comes back and says, for example, "I can give you 6 pallets on that date and the other pallet four days later."
Control of the inbound and outbound supply chains including transportation tendering, transportation planning, and detailed tracking of shipments. Here they are well known for their strength in supporting Ocean, although I was told at the demo station they are getting very good in Air as well.
The participation of banks on the platform. Banks add value to the network by allowing small suppliers (particularly Asian apparel manufacturers) to get paid more quickly. In some instances in fact, suppliers receive capital before shipping the goods.
At the time of the acquisition it was estimated that GT Nexus had revenues of about $150 million, so the acquisition price was a substantial multiple of the GT Nexus's revenues. So why did Infor pay so much for GT Nexus? In his keynote, CEO Charles Phillips made the point that "no one wants to be on a network until everyone is." But the GT Nexus network has traction with $100 billion in spend managed on the platform.  "80 percent of the data needed to run a global supply chain," Mr. Phillips claimed, resides with partners."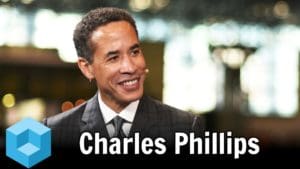 It used to be suppliers of enterprise solutions talked about a single version of the truth being something that resided in enterprise applications, but with supply chains depending on significant collaboration across multiple partners, that perspective is outdated. Now the Infor Commerce Cloud can provide the "truth" of what transactions and shipments have occurred, when they have occurred, and whether they have proceeded as they were supposed to.  Kurt Cavano, President of GT Nexus, summed it up by saying, "We are the first (enterprise software company) to bring ERP and the network together."
Mr. Cavano's presentation demoed the ability to start in an Infor ERP solution but then being able to drill down seamlessly from an order into the network to get up to date visibility on estimated times of delivery (ETDs) and related end-to-end supply chain information. The goal is to have more of this visibility be based on real time visibility – "a Waze for global logistics" – rather than less accurate and timely EDI transactions.
Duncan Angove, the President of Infor's Digital Disruption unit, explained the Waze for global logistics concept in more detail. Infor's goal is to take a more predictive analytics approach to ETDs.  Infor will do this by accessing external data sets -including IoT, GPS, and weather data – and then using machine learning technologies to analyze the networks' data.
Mr. Phillips probably summed up Infor's perspective on the GT Nexus acquisition the best when he said "the future belongs to network solutions."