In a Twitter blast last Friday morning, Trump said "Why is the United States Post Office, which is losing many billions of dollars a year, while charging Amazon and others so little to deliver their packages, making Amazon richer and the Post Office dumber and poorer? Should be charging MUCH MORE!"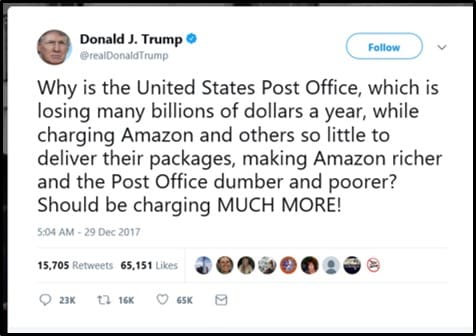 There is, not surprisingly, a political angle to this.  Amazon is owned by Jeff Bezos, who also owns the Washington Post.  Trump has been highly critical of the media, and singled out the Post and for its coverage of both his campaign and presidency.  Almost immediately following the tweet, Amazon's stock price began to drop.
But for a logistics guy, this is also a teaching moment. First of all, Amazon uses all the major parcel carriers as well as a network of regional carriers. But what Trump appears to be referencing is the increased use of the United States Postal Service (USPS) for zone skipping, also known as direct injection.
In zone skipping, a shipper consolidates many individual packages or orders into a much larger shipment – often full truckload shipments. These packages are then sent in mass from one zone to another. For example, Atlanta is in Zone 2 and Los Angeles is in Zone 8. Shipping directly from Zone 2 to a Zone 8 parcel carrier's sorting facility can lead to substantial savings for a shipper. But the ability to consolidate for zone skipping depends on whether a shipper has both enough time and enough volume, something most companies lack. Amazon certainly has the volume.
But in an ecommerce world, the lack of time is particularly worth noting. When retailers offer many of the same items at similar prices, the speed of delivery can be the deciding factor. The need for speed is leading to shorter and shorter delivery promises.  Amazon Prime members get their packages in two days "free."  If customers want to pay more they can get them even quicker.
Amazon can hit aggressive service expectations because it has its own air cargo network.   The company flies goods in bulk on leased Boeing 767s to an air hub in Wilmington Ohio, deconsolidates the incoming load, and then reconsolidates the outbound load with packages headed for a particular zone. It can then deliver in bulk, in truckload sized trailers – Amazon has purchased thousands of 53 foot trailers to a USPS sorting facility in that zone.
In short, you must give Amazon credit for having the kind of network and supporting logistics capabilities that allow them to take advantage of zone skipping. But that still leaves open the question of whether the USPS is charging Amazon enough for these services. The 2006 Postal Accountability and Enhancement Act made it illegal for the USPS to price parcel delivery below its cost.  USPS isn't free to set prices as it wishes — rates are decided on by the Postal Regulatory Commission. Earlier this month the federal agency that oversees the postal service granted it the authority to speed up pricing increases over the next five years.
It's complicated to calculate the costs for the many different types of things USPS delivers. According to a money manager with a stake in FedEx who penned a piece on the topic for the Wall Street Journal: "In 2007 the Postal Service and its regulator determined that, at a minimum, 5.5% of the agency's fixed costs must be allocated to packages and similar products. A decade later, around 25% of its revenue comes from packages, but their share of fixed costs has not kept pace. First-class mail effectively subsidizes the national network, and the packages get a free ride."
Citigroup estimated in April that if the costs were allocated according to USPS' current mix of freight, the average package would cost $1.46 more.
Amazon gets 40% of its packages to our doors via USPS, compared to 20% to 25% with UPS and 15% to 20% with FedEx.
A few other data points, in their last annual report (form 10-K), Amazon reported losing $7.2 billion on shipping costs. Despite that their retail operations made about $1.1 billion in profit. Shipping costs include transportation, sortation, and delivery centers.  But their warehousing operations are very efficient, they use mobile robots to good effect in their warehousing operations.
It is also commonly estimated that Amazon ships about 600 million packages per year.
If you do the math, Amazon would have incurred hundreds of millions of more in shipping costs last year if Citigroup's estimates for what they should be charging are correct.  They still would have had profitable retail operations, however.
This whole argument takes us into the realm of activity based costing, a critical skill for achieving excellence in supply chain management, but something very difficult to do well.
But one must say, on the surface it certainly does not look like the postal service is doing a good job allocating costs.